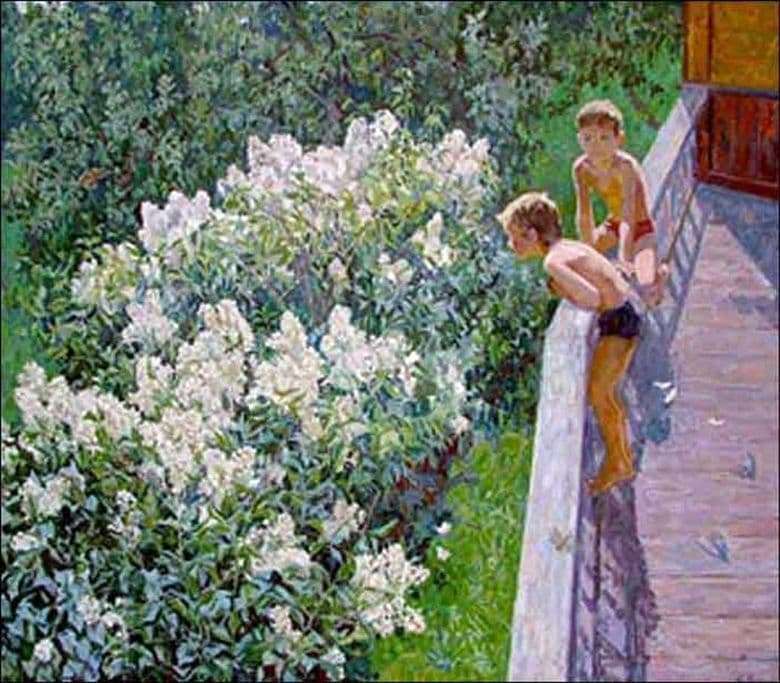 Maya Kuzminichna Kopyptseva was born in the city of Gagra, but in two years she moved with her parents to Leningrad. She survived the blockade in Samarkand, and after the war ended she entered the Repin Institute. The artist's work covers a variety of genres, but she wrote most of her works at the Academicheskaya Dacha. Maya Kuzminichna saw the world figuratively, noticed the beauty of the most ordinary things.
The painting "Summer day. Lilac blooms" – an incredibly positive canvas. It seems that while standing by the picture, you can feel the tart aroma of blooming lilacs. The combination of white, pale pink, lilac and bright green shades makes it harmonious and consistently joyful. In the center of the canvas depicted large, lush lilac bushes in the midst of flowering. The picture is divided into two parts by the railing – the right half depicts an illuminated veranda, the left half is entirely devoted to the lush lassic foam.
Two boys watch a blooming miracle from the balcony. The character closest to the viewer leaned dangerously forward and hung on the balustrade, as if checking whether he could reach out to fragrant branches in order to pick a couple. A distant little boy sits astride the railing and watches a friend. Both boys enjoy the June day, holidays, rest from school worries. Both of them are wearing only panties – black on the first boy and red on the second. Their bodies are tanned – apparently, the boys spend a lot of time on the air.
In the background – lush green bushes, covered with the warm summer sun. Weightless white butterflies flutter in the air, birds flying over the balcony cast obscure shadows on the heated boards of the veranda. The design seems simple. However, the artist managed to convey the light and joy of a summer day, the warm charm of a country morning filled with the fragrance of lilacs.