Description of the painting by Konstantin Pervukhin "Autumn is running out"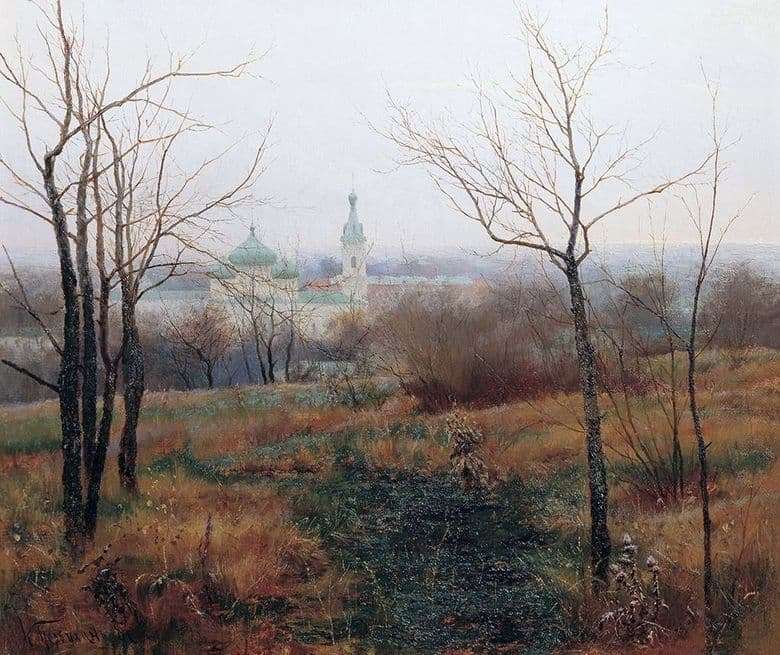 Konstantin Pervukhin – a student of I. E. Repin, a follower of N. N. Dubovsky, the author of a large number of landscape works. Of particular popularity brought him paintings depicting the views of Italy. Small in size, but in detail and carefully worked out, similar to the photographs, his works were bought up willingly by both art lovers and people who are ignorant of art to decorate interiors. Therefore, many works of the author to this day is in private collections.
Belonging to the younger generation of peredvizhniki artists, Pervukhin fully reflected in his work all the inherent tendencies. This is a detailed, but emotional display of the surrounding reality, and the lyricism of the works, and the exact transfer of the mood of the landscape, and a careful selection of colors. He wrote Konstantin Konstantinovich mostly in the air, from nature.
The canvas depicts the moment of late autumn: the leaves from the trees have already flown around completely, but the snow has not yet fallen. Bare brown branches look especially sad and lonely against the background of low gray sky; the lifeless grass is saturated with moisture. Looking at the picture, you can feel the ground squashing beneath your feet in the endless cold rain. A bleached little church can be seen in the distance; its dark green domes almost merge with the heavy, moist air. Light fog covers the whole space, making the outlines of distant objects blurred; the distant village and the forest on the horizon are melting in the fog.
From the canvas blows cold, hopelessness, anticipation of a long winter; nature falls asleep, practically dies, preparing for hibernation. In the air, it sounds like a bell ringing; This is a funeral service on warm days, on a departed summer. The painting "Autumn is Running Out" was acquired by P. M. Tretyakov for his gallery almost immediately after writing.





(
1
votes, average:
5.00
out of 5)
Description of the painting by Konstantin Pervukhin "Autumn is running out"