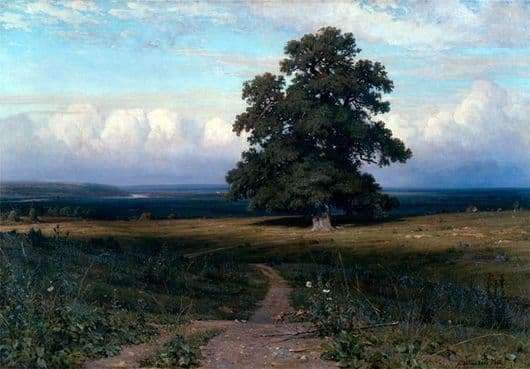 We all know that the beauty of Russian nature attracted not only poets, but also artists, because they showed immense interest in it.
This picture was painted by the great Russian artist I. I. Shishkin back in 1883. After all, it was precisely from this time that a huge artistic activity of the author of many works unfolded, in which the spacious forests and fields of our vast country were depicted in the best possible way. So, one of these creations is the painting "Among the Equal Valley". At first glance, you will be able to notice that the Russian plain stretched before you with its endless expanses. But if you look closely, you will notice that there is a river and a small white church.
The background of the picture is a little blurred, so many people think that fog spreads over the field. Therefore, a sharp contrast arises in the picture, which gives it greater dynamics. Indeed, because of this picture space seem more organic and endless, so it is clear that the artist hides some special meaning. In the foreground we see the dirt road begins, which then goes back and literally disappears from the horizon. On both sides of it are green grass, which does not count all the beautiful flowers found on the way. Simple and familiar daisies, cornflowers and bells clearly attract your attention.
But literally in the middle of the field stands a mighty oak tree that has been growing for more than one century. He alone – wide, tall, big and sullen, as if watching all that is happening around. His huge branches give him greater reliability and power in the fight against the evil elements of the storm and hurricane. In the clouds you can see how this is coming disaster. Therefore, everything in the neighborhood seemed to stop waiting for these events. Despite the picture, there is no doubt that the artist literally put all his soul and hope into the future.