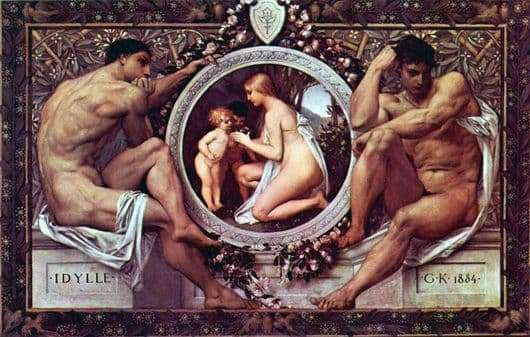 Klimt's paintings are deeply symbolic – they are difficult to read at one glance, they need to ponder, estimate, put forward hypotheses and reject them. And the most exciting thing about them is that there is no single clue that suits everyone. Everyone is free to interpret them as he pleases, depending on his world view and outlook on life. After all, everyone has different priorities and a different way of perceiving reality.
So "Idyll" can hardly seem to someone truly idyllic. In the center of the picture the mother caressing the children is a pretty, chaste, pleasant scene. Life, eternal rebirth and continuity, happiness, peace and joy of motherhood triumph in it.
The woman is gentle, the children curiously bow to her curly heads. But around this cute scene is anxiety and twilight. This is shown even in the chosen palette and brightness of colors – in the center of the picture they are warm, splashing colors and creating an extremely pleasant impression. Along the edges – on the contrary, the colors are muted, faded, dark tones prevail.
Two young men look at the mother with the children expectantly and sadly. As if they are waiting for everything to break now, fly to hell and stay there. At the same time, they sit on stones resembling tombstones and flowers, in which the middle circle of the picture rests, resemble bouquets that they bring to the graves in memory of the dead. And then everyone is free to interpret as he wants.
One will see death, which always waits, when life gives in to it and allows it to take away both the mother, and the children, and the flowers assigned to their tombstones. Someone that outside the family is only dust and lack of life and meaning. Someone does not think at all about such high matters and just be pricked by the way children play with their mother.
This is exactly what the creator wanted – that different people interpret in their own way and that for everyone there is something different in his picture.