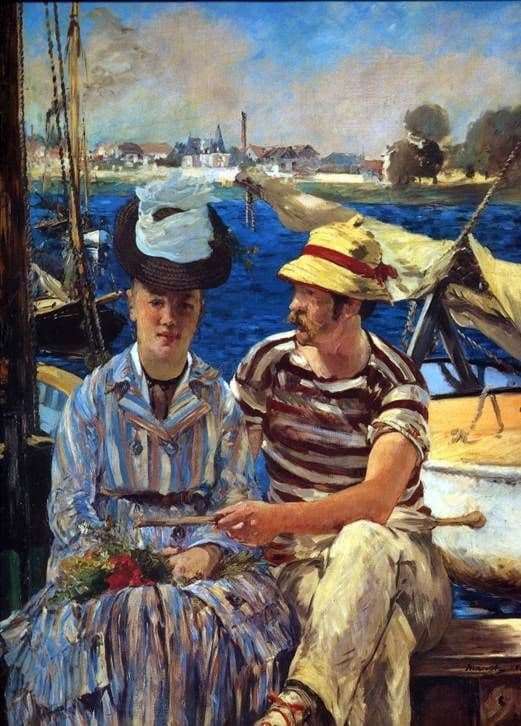 At one time, Mane was visiting with his younger colleague and friend, Claude Monet, and was completely fascinated by his way of life. Moni lived in Paris, on the banks of the Seine, he had his own boat, in which he lived as if in a houseboat. He painted pictures in it, he dined in it, he also went to sleep.
His pictures sparkled at that time with the sun, were full of light, shining with happiness, and described mainly the life of the rayonchik close to the river in which he lived. There were bathers and bathers, ladies in frivolous hats, sailors, random people, tourists in impossibly bright clothes. In the paintings of Monet, it became clear that he loves life, and Mane temporarily got infected with this love of his. In those days, the brightest of his paintings were created – and at that time he wrote many, often, with pleasure.
"Aranzhey" – one of these paintings. It is filled with light, the feeling of summer heat, warm colors, delicate shades. The woman, Mane's constant model at that time, holds a bouquet of flowers on her lap and looks a little to the side, obviously thinking of something pleasant. A man – a typical vacationer, white pants, funny panama, drooping mustache – looks into her face. It is easy to finish their dialogue – about how hot it is impossible today, about how beautiful the girl's eyes and what an elegant hat, and whether she would not agree to go with him to some pleasant place to cool, drink something cold or eat sherbet.
Behind them – the river, delightfully bright, reflecting the sun's rays – on the other side you can see the low rural houses. Around the mast, boats, when looking at the picture, it seems you can feel the breath of fresh wind from the river.
And, maybe, all you have to do is turn away – the woman will smile, put the bouquet aside and say – well, let's drink something cool if you insist.
"Aranzhey" is so full of life that it would not be surprising.