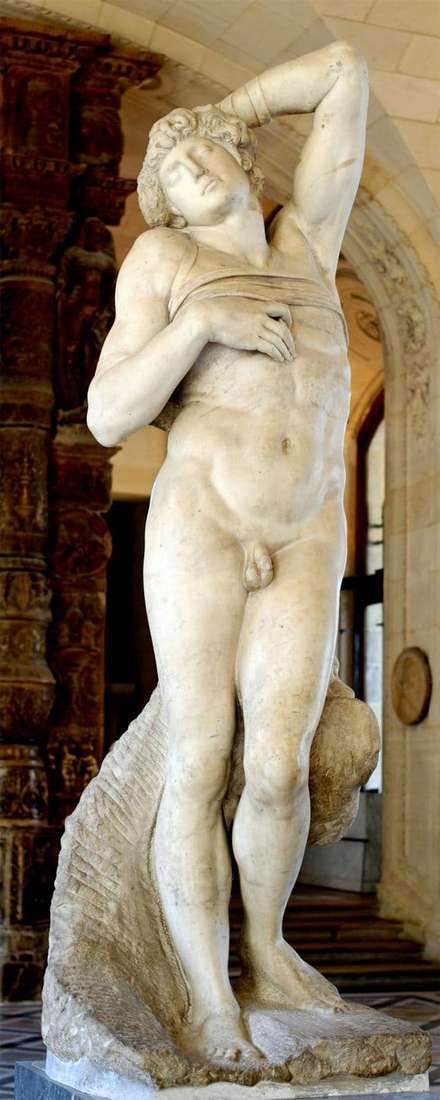 Slaves of Michelangelo Buonarroti – famous marble statues of the great Italian sculptor. Originally intended for the tombstone of Julius II, but the option for the implementation was chosen more modest scope, with a smaller number of sculptures. As a result, the finished work of the master "The Dying Slave" and opposed to her – "The Risen Slave" were donated to Roberto Strozzi, who gave them to the King of France.
Thus, the "dying slave" hit the Louvre in Paris. 4 more started sculptures are in the gallery of Florence. Lovers of finding allegories symbolically associate slave figures with conquered areas by Pope Julius II. Alternative guess – the captives of Michelangelo personify certain branches of art: painting is embodied in the "Dying" as at the foot of the statue there are sketches of a monkey (this animal is the Latin symbol of artistic craft). The creator of captives himself did not dwell on comparisons, attaching the greatest importance to the proportions of beauty and the deep aspiration of human nature to freedom. Sculpture growth – 229 cm. Years of work – 1513-1519.
The meaning is multifaceted and eternal. The beautiful marble youth was often called the "Sleeping slave". Looking at him you might think that the creature is plunging into a dream, even if it is eternal. In the created image the tragedy of death and victorious freedom are merged together. A slave is crushed in a fight with a hostile world: immobilized, dead; but he is finally free: the dream of death gives long-awaited deliverance, from now on man is not a prisoner. The sculpture by Michelangelo is spiritualized and extraordinarily beautiful: the young man's strong young body is engulfed in a rush of inner experiences. From the painful hopelessness and constraint, the "dying slave" falls into peace and blissful peace. The theme of crushed resistance and oblivion is reflected in a significant image.