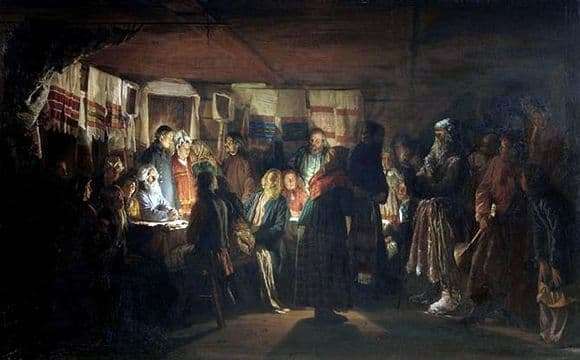 The picturesque canvas of the Tretyakov Gallery, invariably attracting the attention of visitors, – "The arrival of the sorcerer at the peasant wedding." This tremendous work was written in 1875 by the Russian genre painter V. M. Maximov.
The artist was from the village. Growing up and leaving the village life, he returns here to enjoy the distinctive atmosphere, learn more about the simple, at first glance, people and write pictures about him.
The work on the wedding was realized thanks to the artist's childhood memories. He remembered the case of the marriage of his brother. The spouses stood, and the rest could not stop looking at them. A stranger, accompanied by his dog, entered the hut during a feast, and without stopping his cap, he stopped at the threshold. The seated were alarmed and whispered: the sorcerer came.
After the uninvited guest politely filed a cup with a drink, gave the coin, and he went home. The picture shows the same story, but somewhat modified and very detailed. There is no dog with the sorcerer, he is also wearing a headdress, while he is sprinkled with snow and with adhered snowballs on his boots and sheepskin coat.
An elderly woman came to him with bread. Wise woman wishes to appease the sorcerer with her hospitality, so as not to cause grief and hear good wishes. The rest of the relatives and guests are alarmed, scared, the children are full of curiosity. Newlyweds in the corner of the hut still stand under the icons.
Hidden source of light bright lights illuminate them. The light also falls on the faces and clothes of other characters, on the harsh traits of an incoming old man. Some of the figures are in the semi-darkness and cast shadows. This creates a general impression of mystery, mysticism.
Maksimov paid much attention to the transfer of the life of the peasants to the audience. The windows are closed with colorful curtains, people are dressed in the spirit of folk traditions. In the faces of the peasants, their images – superstitiousness, openness, gullibility and breadth of the soul.