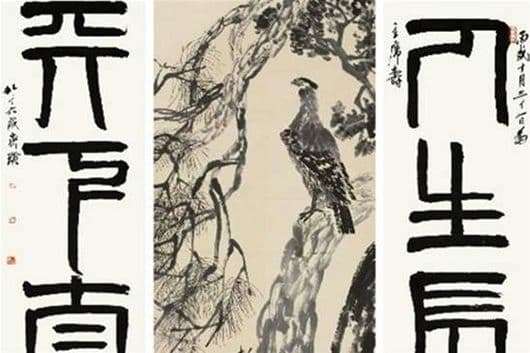 The painting "Eagle on a Pine Tree" containing elements of calligraphy, which is owned by Chinese artist Qi Baishi, was sold at a Beijing auction for 425.5 million yuan, which is 65.4 million dollars. The bidding for which this painting was sold was held on May 22 by the China Guardian auction house. The painting "Eagle on a Pine" was completed in 1946, while the painter managed to celebrate his 86th birthday. The painting depicts the eagle itself and two calligraphic scrolls. This work of the Chinese master is the largest of the famous works of this author – the size of her canvas is 266 x 100 centimeters, and the size of each scroll is 264.5 x 65.8 cm.
The amount for which this painting was sold was a record for modern Chinese painting In the whole history of this auction picture The Eagle on the Pine "gave way to only one work of art – the manuscript of Juan Tinjian of the 11th century. This work was auctioned off in June 2010, and its buyer paid 436.8 million yuan for it. Artist Qi Baishi is one of the most prominent painters and calligraphers of modern China.
The Xinhua data suggests that in 2009, at various auctions held in different countries of the world, the works of this Chinese painter were able to generate approximately $ 70 million, which allowed this artist to take third place in the cost of paintings after, per However, Pablo Picasso and Andy Warhol got no less great places, but the absolute record in Chinese art could reach the vase of the Qianlong era of the Qing dynasty, it was sold in October 2010 for $ 83 million. Although this record is not yet official, since in April 2011 it became clear that its buyer had not yet paid for this acquisition.
The Chinese art market has been able to achieve such high-profile sales in recent years amid exponential growth. According to the report, which was published this year on artprice. com, in 2010, China was able to rise from 10th to 1st position, when it became the largest auction market of visual art in the world, and at the same time managed to overtake USA and England.