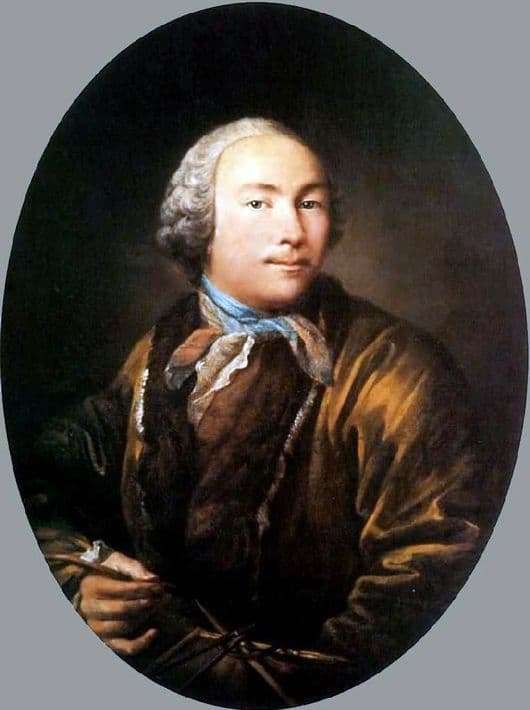 Argunov Ivan Petrovich – Russian portrait painter, who came from a family of serfs, belonging to the Sheremetyev family. Fame Argunov brought his numerous works in the portrait genre. During his creative life he worked on portraits of many people, from monarchs to ordinary people of the people.
In his works, even ceremonial ones, the artist seeks to depict people as they are, without embellishing reality. Therefore, the portraits of Argunov are so lively, charming and lyrical.
The artist does not depart from his principles when writing a self-portrait. The artist depicts himself in a home costume, the golden-brown color of which merges with the general background. Looking closer at the picture, you can see that Argunov is sitting at a desk, where tools are scattered randomly: pencils, compasses. The artist also holds a pen or pencil in his hand. All this creates the impression of the usual and authenticity depicted in the picture. It seems that for a moment the man turned away from his business to pose for a portrait.
Argunov sits half-turned, which gives the picture some dynamics. It does not look frozen, static, flat. There is a wig on the man's head, the wearing of which was obligatory at that time not only in solemn occasions, but also in everyday life. Argunov's gaze, warm, friendly and a little interested, is directed straight at you.
With amazing skill traced folds on clothes. The softness of the lines, the glare of light on the costume, the warm tones of the colors chosen by the artist for the self-portrait – all this reinforces the feeling of warmth and intimacy of the picture.
Nothing distracts the viewer from the contemplation of the person in the picture. There are no extra details. The background is monotonous. The only bright spot in the picture is a turquoise scarf tied around Argunov's neck.