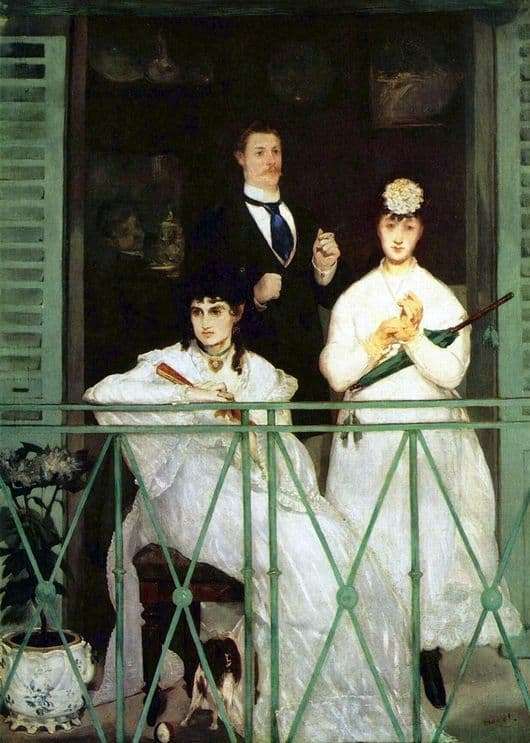 The museum that inspired Manet to create her well-known painting became the artist Berthe Morisot. They met in 1868 and already in the fall Bertha begins to pose for the artist for an image. The society accepted the finished picture well and in the spring of 1869 it was put up for sale in one of the local salons.
For a long time, the painting belonged to one French painter, and after his death it became the property of the state. Today this canvas is in the Orsay Museum. The picture captures the actions that took place on one of the balconies. He himself is made in shades of green and fenced with a dense lattice. Among the people on the balcony are two women. The right woman is the violinist Fanny Klaus, she stands near the door and looks at the viewer.
The left one is the artist Bertha Morisot, she sits on a small ottoman and looks behind the fence of the balcony, and a small white-brown dog is shown near her feet. Both women are depicted in snow-white outfits, which contrasts markedly with the rest of the situation. Behind them is a standing man, this is Antoine Guillemé, a famous artist.
Behind his silhouette in the thick darkness of the room one can hardly see the artist's stepson – Leon Leenhoff. The inspiration for the creation of this canvas was one of the creations of the beloved Creator Mane – Francisco Goi – "Machi on the Balcony". It is associated with the plot and composition of the image. Before creating his famous painting, Manet managed to create a separate portrait of the violinist Mademoiselle Klaus on the same green balcony as part of the training. In the picture she is depicted sitting the same stool as Bertha.