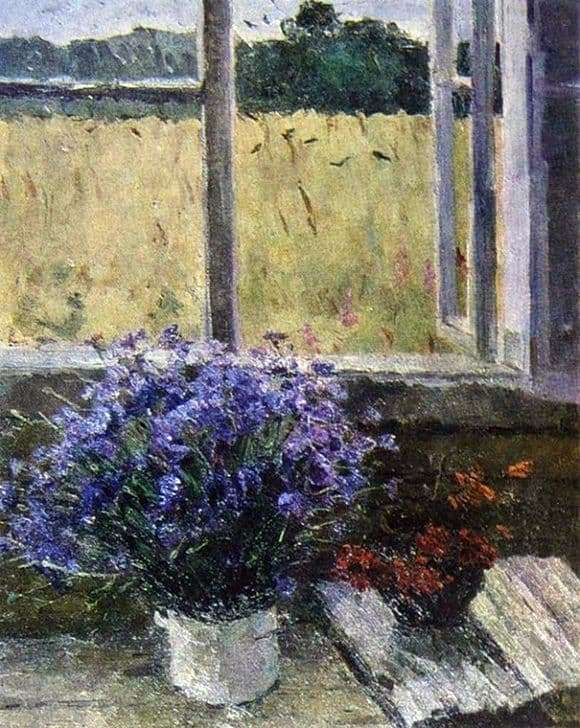 The painting "The Last Cornflowers" was written by V. N. Gavrilov shortly before his death in 1970.
In this connection, many critics consider this canvas as a symbol of life to come out, since its main theme is autumn motifs noticed by the artist in nature.
The centerpiece of the picture is a huge bouquet of blue field cornflowers placed in a regular white pan. Flowers are spelled with wide smeared strokes that do not allow to distinguish the plant stems from its flowers.
The artist used bright saturated colors that do not allow the canvas to fade even after several decades. In addition to the cornflowers in the picture there are other important details, but all of them in their significance are largely inferior to these simple colors.
So, next to the cornflowers placed another container with flowers, this time red. Apparently – this is asters. Unfortunately, it is impossible to understand how truthfully this assumption is, because the part of the picture under consideration is darkened, the shadow of a large bouquet of cornflowers and a window sill falls on it. The window sill is nothing interesting, it is just an interior in which there is a bouquet of cornflowers.
The background of the picture is drawn to a lesser extent than cornflowers. Behind a wide, well-lit window one can see an eared cornfield, flocks of birds and a small forest. The landscape outside the window is unpretentious, but somewhat sad, which allows us to speak about the imminent approach of autumn.
It is likely that the collected cornflowers will be the last this year, because their presence in the picture is more than symbolic. It is possible that this cornflower bouquet is destined to be dried and thrown away, but now it is he who is the only ray of light that still illuminates the life of the artist.