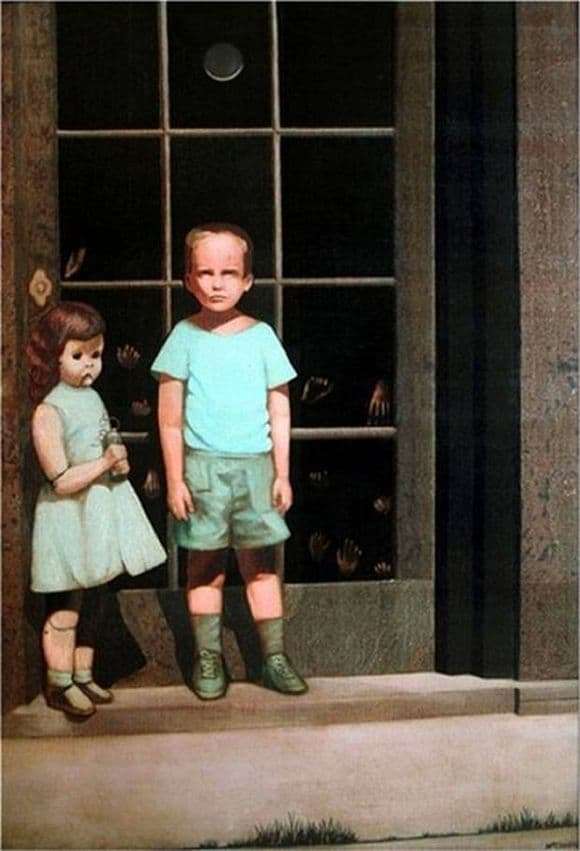 The work "Hands resist him" has gained notoriety and has a terrible reputation.
Several of its owners have died, and many people claim that this canvas is a source of evil. In fact, the artist painted himself with his sister, displaying the plot of an old photograph, where they are posing against the background of his father's house.
The boy is depicted realistically, and the girl is depicted as a soulless doll. Although the proportions of the boy's body parts are very strange, his sinister gaze leads to fear. Children's palms on the glass symbolize the boy's non-existent illusory world, and the doll is his guide to this unusual world.
One gets the feeling that many children cannot get out of the room, which is already frightening in itself. Perhaps this children hold the door and do not want to communicate with the main character of the work. The boy looks ominous and lonely, maybe the artist felt like this when writing this picture.
It permeates child cruelty, absolutely incompatible emotions with naive childish images. The result of the embodiment of evil in children is always striking, namely, evil exudes this composition.
In the world of dreams there are many possibilities, which the artist shows in the form of children's palms. You can catch them with a look, just look back. The work is written in the style of surrealism, very much like the work of mentally ill people.
Art critics carefully evaluate this work, but note its originality and unusual plot. The picture has gained popularity because it is considered a ghost. Some owners of this canvas say that the characters in the picture are moving and changing places.
Stoneham was always distinguished by originality in his work, but in this case he simply amazed with the combination of elements. You can look at this picture endlessly, revealing a deep philosophical meaning, but the master himself claimed that he had just sketched an old photo. There is a work in a private collection.