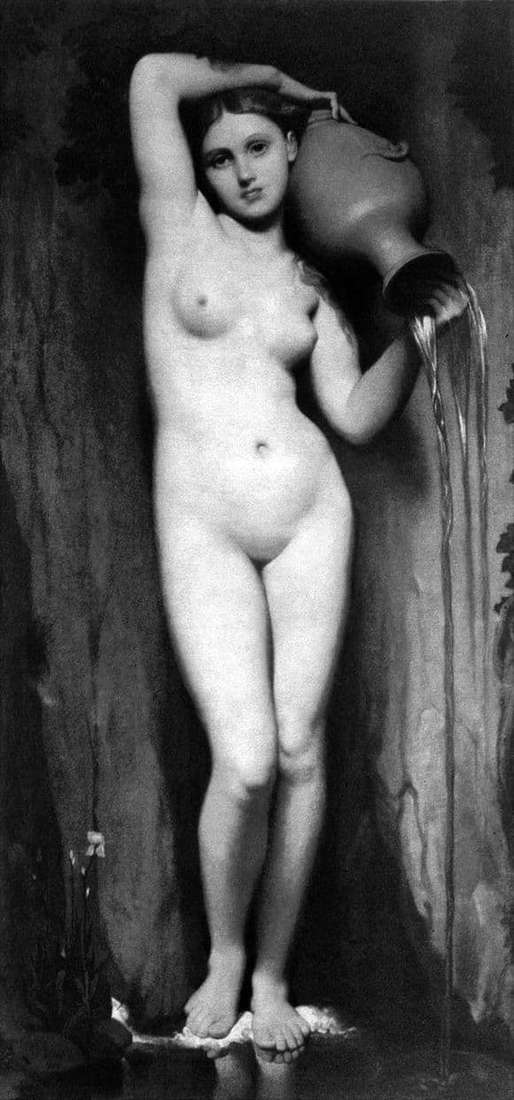 Ingres is a French artist who claimed that since Raphael, art has gone in the wrong direction, which means that his mission is to continue from the level that classicism has reached. This position raised some questions from his colleagues, and from society as well – the paintings of Ingres sometimes seemed too frank, sometimes very much typologically different from each other. He glorified aesthetics, the beauty of faces and scenes.
He wrote mythological scenes (mostly from ancient mythology), sometimes used religion as an inspiration. "Source" – one of his sketches, which grew out of his own "Venus". The fact is that often Engr could not sell his paintings, because they seemed to his contemporaries too frank, and then he just hung them on the wall in the workshop, using them for further inspiration.
"Venus" hung like that for several years, until the artist finally painted over some odd details and sold it at a bargain price. "Source" appeared some time after this, as if Ingres was too used to seeing a naked girl on the wall.
Initially, the girl with the picture squeezed her hair – the same gesture as Venus – and she had red stockings on her legs. However, later, when it came to selling, Ingre dyed her stockings, and on the shoulder of the girl he hoisted a jug, reducing her resemblance to Venus.
Now she stands in the middle of a small lake, clear water is flowing from a jug, and the girl looks at the viewer directly and seriously, not at all embarrassed by her nudity. Her legs are reflected in the water, ivy grows on the stone wall behind her back. Blond hair is wet, sticking to the shoulder, and the figure indicates that it is quite young.
In general, the purpose of this painting was aesthetic. Perhaps Ingru she helped to feel better after a long day of work, a quarrel with another colleague, disagree with his opinion and other unpleasant incidents.