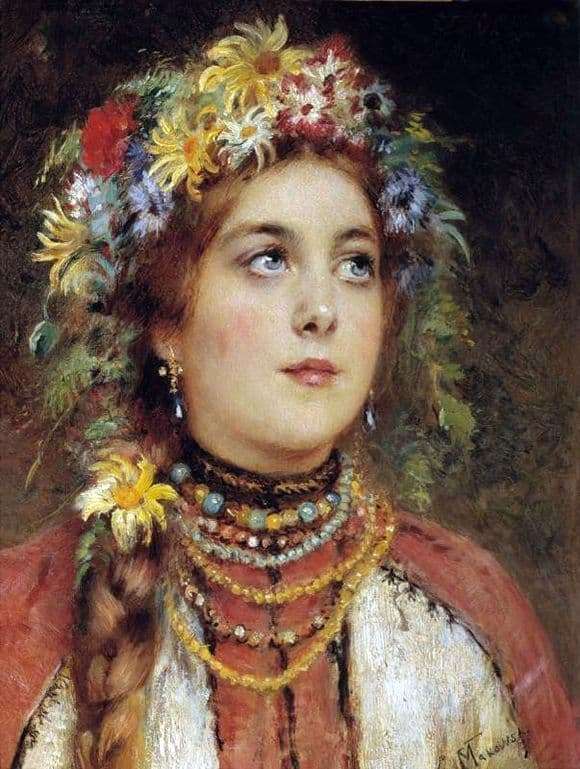 Vladimir Egorovich Makovsky – one of the greatest artistic figures of his time. He was born in 1846 in the family of the founder of the Moscow School of Painting, Sculpture and Architecture. From childhood, the future artist was surrounded by art in all its manifestations: thematic evenings were organized in the family, to which famous creative personalities were invited.
In addition to Vladimir, there were four other children in the family, three of whom went into art, and the sister was destined for the singer. Such upbringing left a mark on the subsequent work of Makovsky. He worked on a number of canvases in concrete style. One of such projects was paintings with images of Russian girls.
The attributes of the Russian national beauty, as a rule, included a luxurious kokoshnik shimmering with bright colors, as well as the presence of ornaments on the clothes of the heroines of the paintings. Such works glorified the domestic beauty of the young ladies, highlighting their naturalness and charm. Hair, eyes, blush, smile – the artist painted all these elements carefully, emphasizing the importance of every little thing in the image of girls. One of these works was the "Russian Beauty".
The picture shows a young lady with long hair, neatly arranged in a braid, on her head a wreath of an ensemble of flowers, and her neck is decorated with rows of multi-colored beads. The girl's facial expression is decorated with a modest smile, and she herself looks into the distance. Thus, the artist managed to convey the subtle nature and ambition of the fair sex.
The gentle features of the heroine's face underline the refinement of character and depth of soul, which undoubtedly attracts and conveys the mood with which Makovsky carefully applied element by element onto the canvas. Russian land has always been famous for the beauty of women, and this picture is a confirmation of this.