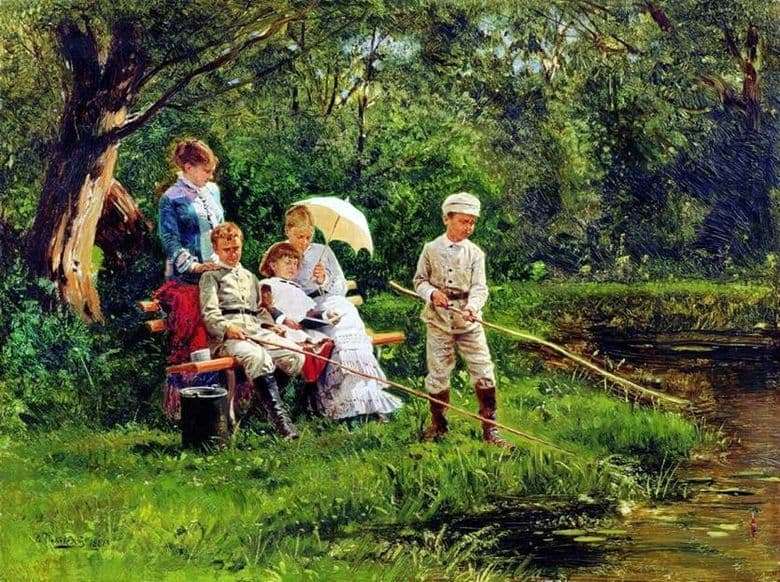 Vladimir Makovsky was always perfectly able to convey everyday scenes from the life of ordinary people. Certain features of his artistic style make it possible to find a common concept and technique from the pictures of different subjects, with the help of which the author allows us to easily enter the Russian soul.
One of these works was the painting "On a hot day." We observe how the wealthy family went for a walk to the pond. The boys are busy fishing, apparently not very successful. The girl reads a book, the mother monitors the success of her daughter. The governess encourages the eldest son, putting his hand on his shoulder. It is evident that the boy was disappointed in his occupation and was despondent.
The faces of each family member noticeably notice how tired they are from the hot sun. Mother protects herself from persistent rays with a white elegant umbrella. Broken down and tired, they continue to go about their business, probably out of boredom. The head of the family in the picture is not, judging by the form of the sons, their father may hold some kind of military post.
The surrounding landscape is rich and lush: mighty trees, lush greenery, picturesque pond covered with water lilies. But even this freshness is not enough to cool off from the summer, a fine day. The coloring of the picture is lively and rich, showing all the colors of Russian nature. The author writes it with decisive, natural, strong strokes that convey the character of the scenes in the fresh air.
Nothing disturbs the atmosphere of calm and silence, only the rare rustling of leaves, and the chirping of forest birds. Even the float sleepily froze in the water. In this heat, everything tends to rest and tranquility. This impression is created by the picture – the feeling of blissful peace, when everything is going well, and everything is fine.