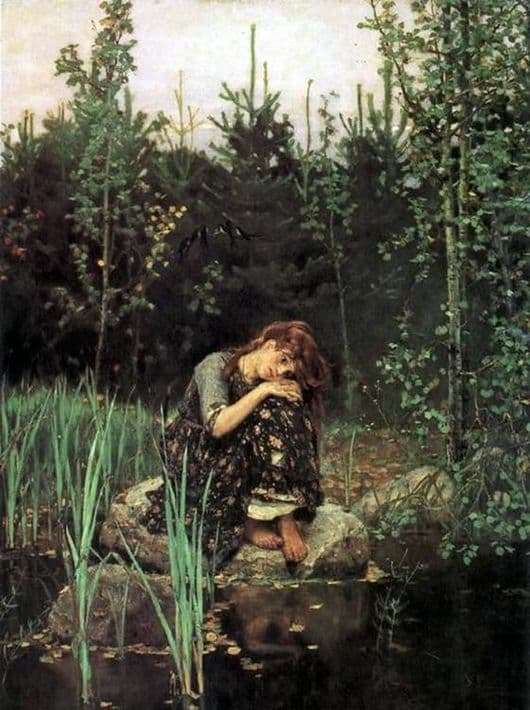 The artist's work is multifaceted, and the paintings have become known from illustrations for folk Russian fairy tales. Vasnetsov's painting Alyonushka was painted by him in 1881. It is as if imbued with the lyricism of the image of a girl from the famous fairy tale "Sister Alyonushka and her brother Ivanushka". With a melancholy look and tired of searching for her brother, Alyonushka sits on a large stone by the pond with her head on her knees. Around the dense and dark forest leads gloomy thoughts on the viewer. The sad solitude, reinforced by images of nature, trees, clouds above the heroine's head, speaks of some kind of grief.
Dark forest surrounded her from all sides and does not want to let out of his captivity. Alyonushka's tears fall straight into the pond. What did the author want to say? Rather, warn about the danger that has happened or may happen to Ivanushka. Barefoot, with disheveled hair on her head, in an old and faded gray sundress, Alyonushka is full of thoughts about her brother.
Suddenly, the Baba Yaga of her brother turned into a goat. Vasnetsov wonderfully described the landscape of this picture, which interacts with his heroine. Nothing distracts the viewer from the heroine of the picture. At the same time, every detail emphasizes the depth of the essence of the picture, which provides a rich ground for reflection.
It seems that Alyonushka finds solace by the pond. It seems to dissolve in this beauty of the artist's paints and becomes herself a part of this landscape. The wounded legs, the humility of the heroine fascinates and attracts the viewer to her pure girlish image.
The picture can be called another – a girl by the lake. She hopes for a miracle that is about to appear from the depths of the water. Even it becomes a pity for Alyonushka. The compassion and empathy of the viewer of the main character becomes almost the main goal for the author.