Description of the painting by Veccio Titian "The young man with a glove"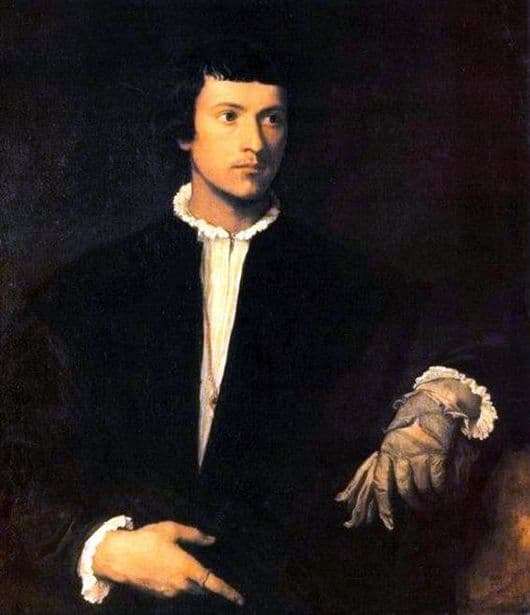 The first artistic experiences of Titian associated with the creation of religious compositions. Such works as "Dinarius of Caesar", "Position in the tomb" (both paintings were completed by the 1520s) are a vivid example.
In parallel, in the 1510s, Titian turned to the portrait genre, in order then, over the next four decades, to create canvases, thanks to which he was recognized as the greatest portrait painter of not only the Italian, but also the European Renaissance. This was understood by many notable people of that time, who literally stood in a queue in order to pose for the great master and thus to be imprinted on his canvases.
Already in his early works (including the "Young Man with a Glove", written in the first half of the 20s of the 16th century), Titian with undeniable mastery could capture on his canvases the ideal of a Renaissance man – beautifully and spiritually and physically
– the fullness of his being.
It should be noted that the artist has well drawn the details of his masterpiece. At the same time, not only they make the visitors of the Louvre stop in front of the canvas and stare at it for a long time. The general concept of the picture, the disclosure through an individual image of the idea of a man of the Renaissance – that's what we love about this picture.
The viewer's gaze slides along the canvas, stopping then on the strong broad shoulders of the depicted young man, then on his dark face, the living brilliance of which proves that his owner is not aware of the sorrows and doubts characteristic of the characters of the paintings of future centuries.
The strength, freedom of the young man lies in his graceful pose, and carelessly unbuttoned shirt, and especially the fervent expression of the eyes. All this creates a look that enchants the audience with its infinite charm and freshness, thereby rightly assigning to Titian the glory of a great artist.





(
2
votes, average:
3.50
out of 5)
Description of the painting by Veccio Titian "The young man with a glove"