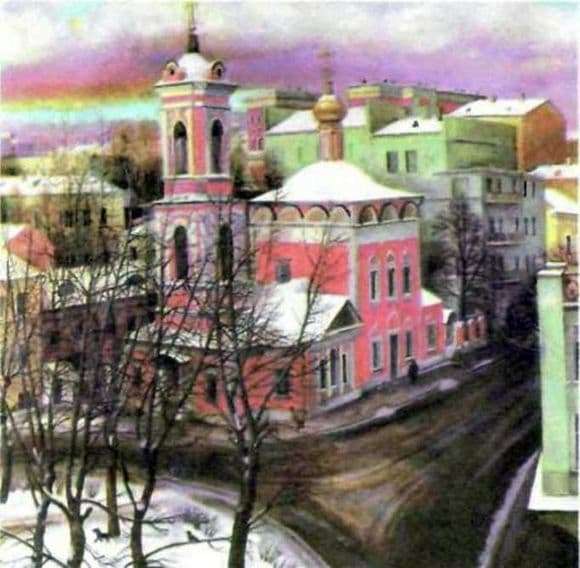 The artist creates a series of bright paintings, among which this magnificent canvas stands out. We see one of the temples of Moscow. It was built in honor of the Ascension of Christ.
This church is unusual. It is located in the place where three roads intersect at once.
Nazarenko looks at the building to the right at a slightly angled angle. The viewer can see the church itself and the territory that adjoins it. A well-known fact – temples have never been built for nothing. The choice of location of the church was not accidental.
You can see the area with trees growing on it. The branches are already completely bare, and the ground is covered with snow. It is necessary to assume that we see early spring. We do not see any cars or people on the sidewalk. The church occupies the center of this picture. All other buildings that are located nearby seem to be a heap of incomprehensible fragments.
The church building consists of two floors.
A small annexe consisting of one floor is shown in the foreground of this canvas. Behind the two-story building you can see another extension. If we look a little further, we will notice the fence that fenced the church yard. On the left is the bell tower. Its arches are really impressive, and the cross is lost somewhere in the sky. Red walls and white snow give the temple an elegant look.
Nazarenko creates an emphasis on the church, not only through composition. She also skillfully distinguishes her with the help of red and white tones. But the artist also complements the picture and other shades. The canvas seems to glow. This elegant look gives it shades of yellow, green and lilac. It can be assumed that the canvas depicts the afternoon time. The snow has already melted on the road under the wheels of cars. Black paint is chosen for the road.
Nazarenko creates an unusual picture. It seems that the church depicted by her. This is the true personification of the Ascension Day.