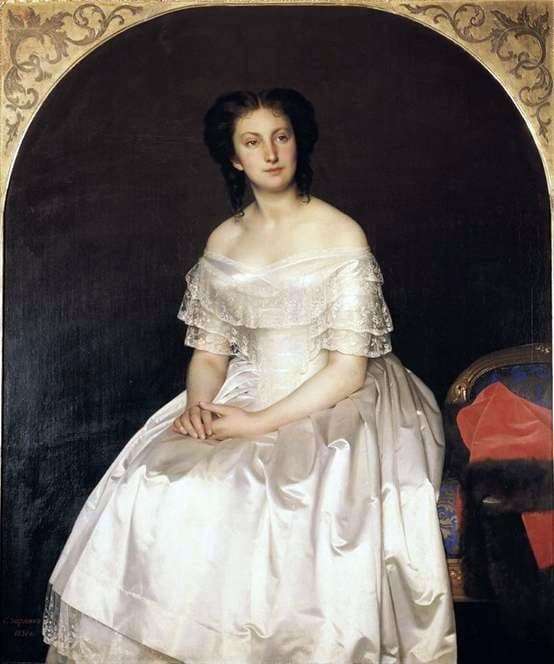 The main place in the artistic work of S. K. Zaryanko was occupied by portraiture. He usually wrote his contemporaries in a special realistic manner. When you look at the work of the artist, the feeling of contemplating a picture disappears. We see real people, with their glitter in their eyes or a slight sadness, with their unique features and subtle shades of emotions. With the same skill Zaryanko wrote a portrait of Princess Vorontsova.
Mrs. M. V. Vorontsova was close to the court, belonged to a noble family along the line of her father. According to the testimony of three married. Drove friendship with members of the royal family, namely – with Maria Nikolaevna.
Zaryanko portrayed a portrait of Vorontsova in 1851. A young woman is sitting on an ottoman. On the body of the model there are no decorations. But the skillful hairstyle and exquisite white dress make up for this lack. Vorontsova's face is beautiful, with a healthy blush, thoughtful. The brown eyes look somewhere far away. Their natural sheen attracts and revives the whole image.
The painter emphasized the smallest details of the heroine's clothes, her hairstyle. The pearly dress of Vorontsova with the finest lace is extraordinarily attractive. Light falling in front is gently reflected on the fabric. On an empty black background, the portrait of the princess looks even more expressive and brighter.
Hands, shoulders and other open parts of the body of the heroine are written with amazing naturalism. The epithet "photographic accuracy" is best suited to Zaryanko's paintings. We see a lively beautiful woman, with a stately clever look and soft romantic features.
In the portrait of Vorontsova, the style of Venetian painting is traced. The author of the picture beautifully recreated the appearance of his contemporaries, paying attention to the special features and her state of mind. Admire the beautiful portrait of a princess in the Tretyakov Gallery.