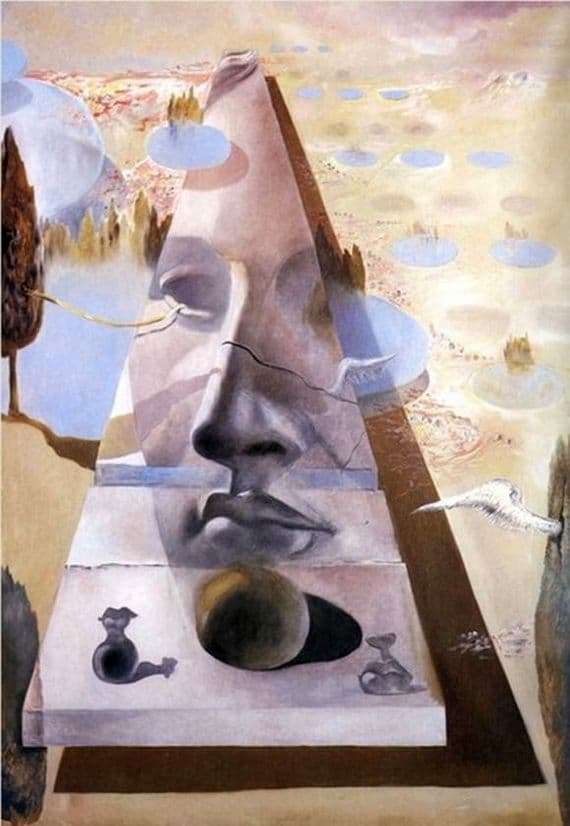 Dali is one of the most famous surrealists, his paintings are known all over the world, and one can often see references to them in paintings, films or books.
Even those who do not like Dali's style admire his work and personality – a tireless fighter with the system, a stubborn man who sincerely honors himself as a genius and praises himself, he loved life and carried this love to the world who considered crazy. He called himself crazy, saying that society would swallow any madness and ask if it is right to give it.
He did not betray public opinion in a penny, continually throwing out something strange, designed to shock the public even more, was hysterical and a brawler, but since all this was combined with great personal charm, many loved him, no matter what. Dali's paintings are usually deeply symbolic, although sometimes, perhaps, symbolism is sought from scratch, where the inner world of the artist is depicted.
"The appearance of the face of Aphrodite of Cnidus in the background of the landscape" – one of his not very famous works. On it, against the background of the world, schematic images of trees and lakes, with castles on the shore, Aphrodite's face pops up – the head of a lost sculpture of Praxitor – in a stone triangle split into two halves. It intersects with two cracks, with it on the triangle depicted two bottles of perfume and uneven ball. From one of the cracks protrudes teaky wing. From the cracked cypress next – and.
In this picture, the detached beauty comes to a world that does not need it, and cracks from its uselessness, preparing to open up and let go of something more or less. The uniformity of the lakes, their peculiar stamping, hint that the world as a whole is a very monotonous and simple place, tearing it into pieces of cracks and wings – that it will sooner or later break into pieces and give way to another, new world where the face will remain forever, bringing beauty and light in which there will be no strangeness.