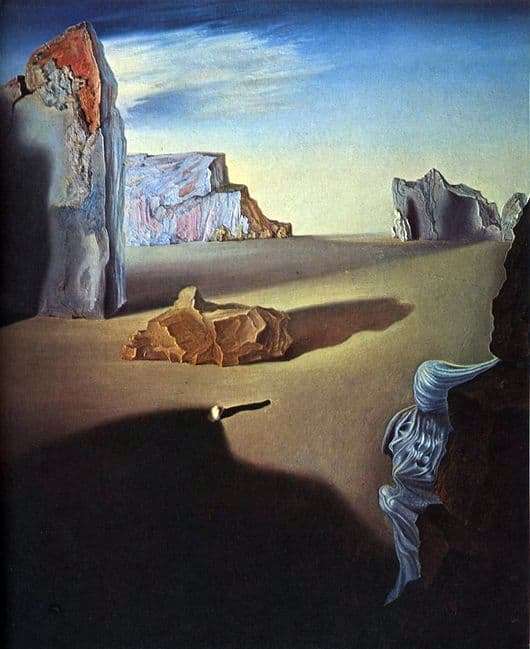 When he was in America, Salvador Dali painted many beautiful paintings, among which were landscapes. The painting "The Shadows of a Vanishing Night" was painted by the artist in 1931 and entered the collection of the most outstanding canvases painted by Dali.
In the center of the picture there is something like a clay block, or a large stone covered with irregularities. The stone is illuminated by an invisible moon, whose light leaves long and uneven shadows on the surrounding surface. Around the stone stretches the desert, covered with fragments of rocks of different sizes and shapes. The foreground of the picture is also occupied by the rock, its shape is extremely bizarre, and does not look like any of the rest depicted on the canvas.
From the left edge of the picture a huge black shadow is spreading, trying to keep its shape and catch hold of the light of the disappearing moon. But the horizon is already lightening, flowering begins, the night darkness covering the sky recedes, it becomes more and more light, driving darkness to the edges of the picture, forcing the viewer to initially pay attention only to the central part of the canvas, and then to the surrounding rocks.
Like all landscapes painted by Dali, this gives the viewer a chance to reflect on reality, plunging into the world of dreams of an artist who never in his life tried to follow generally accepted rules and standards. So the landscape in the picture looks more like a Martian than a quite ordinary earth one, it seems as if two suns seem to appear from behind the rocks, or something else like that.
Despite the fact that the picture is saturated with shadows it looks very bright and even bright, largely due to the use of yellow and blue shades in various variations. It seems that the shadows themselves are not black, but dark blue, such as the shade of a beautiful summer night just before the heyday.