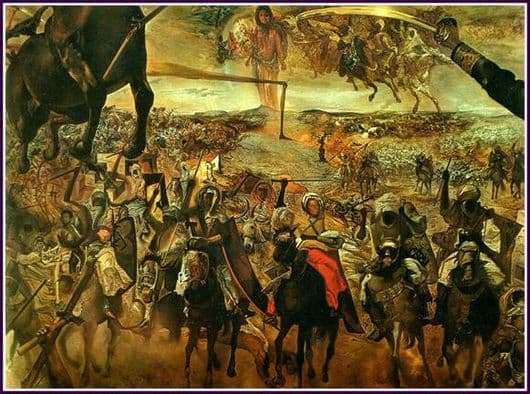 In 1860, the Spaniards conquered the city of Tetouan in North Africa from the Moroccans. City Council of Barcelona, proud of the victory, ordered canvases for military themes by Mariano Fortuny. The artist has not finished a huge canvas, 300×972 cm in size, and the Battle of Tetuan has been in storage at the Museum of Modern Art since 1920. On the centenary of the painting in 1962, Daly decided to write her ironic version. His version, written from a photograph in Life, depicted him and Gala in the center of the canvas, at the head of a Moroccan detachment.
On the horizon, the picture depicts a cape that looks more like a cape between Roses and Cadaqués. And the landscape of this ironic canvas is more like not Morocco, but Ampurdan. In 1930, Dali acquired a "shack" from Lydia, which has a strong resemblance to the hut depicted in the center. The work is more similar to the description of the next adventure of Gala and the author, than to the tribute of Mariano Fortuny.
Both paintings were exhibited October 15, 1962 in the Tinel Hall in Barcelona. Dali did not fail to publicly state that the picture was nothing more than kitsch and even dared to say that it came out as a result of an upset stomach. The picture contains a jumble of images that lack integrity and the responses of quotes from Dali's paintings are felt separately, which really gives the impression that the author has told the truth about indigestion. El Salvador, who so freely expressed himself at the exhibition about his work, immediately wrote an indignant comment to the press.
H. Hartford, who had previously acquired the work "The Discovery of America by Christopher Columbus," did not attach importance to the opinions of others about the "Battle of Tetuan" and sincerely became interested in the picture. As a result, Daly gave the millionaire an individual viewing of the canvas in New York, which, in the end, led Hartford to buy the canvas for his gallery.