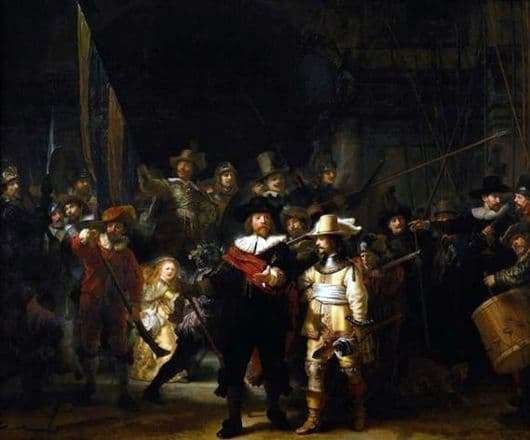 The painting "Night Watch" was painted by a Dutch artist, Rembrandt Harmens van Reim in 1642. In the 18th century, the canvas was cut off on all sides so that it could fit in the room. The time of day in the picture is evening or night. Behind the heroes, there is a wall with a semicircular arch, and behind it is a dark emptiness. Concave pillars, rims and walls adorn the wall. A closed window is thrown forward at the top right. On the arch support is a plate, in the form of an oval, with the names of the models, which is surmounted by the head of a cherub and framed by a wreath.
A parapet with a stone pillar encloses the staircase to the left, and ends on the right side after Lieutenant van Reutenburg. Some researchers argue that in general the scenery resembles the existing places, namely the gates of St. Anthony, near which the guards stood on patrol. The picture shows the moment in which Captain Kok gives an order to speak to Lieutenant Reitenburg. You can see how the drummer tries to knock out the shot, and the dog tries to bark at him and the ensign wraps the banner. In the picture, in motion, even the details of clothing from the shooters.
Moment of construction is coming. In the foreground is a girl in a golden dress surrounded by symbols relating to the musketeers. On her belt she has a cock and a pistol, and in her left hand she holds a horn for wine. What role does she play? This picture is a group portrait that was paid for by all the arrows depicted here, but Rembrand portrayed casual observers, as a result of which the portrait was turned into a multicolored scene with a street gathering. Bright rays illuminate the figures, lace, faces, brocade clothes and many other details. All in anticipation of construction and different things: who is swinging a spear, who is busy charging a musket, who is knocking on the drum, who is looking around.
Everyone is waiting for the team, they can not wait to make a general battle formation, proudly marching in front of friends and relatives. After all, they are the defenders of the city! Now the picture is stored in Amsterdam in the State Museum.