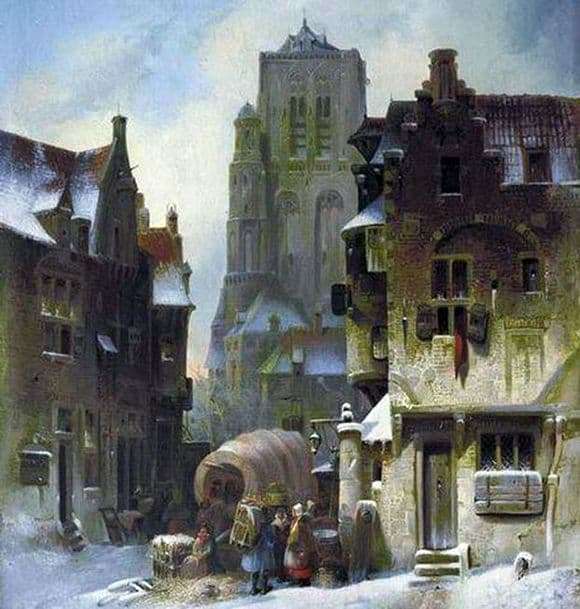 PN Orlov established himself as a portrait painter, but in his works one can also find several ones dedicated to everyday life scenes. One of such works is the "Architectural Landscape".
The artist was impressionable in nature, everything was interesting to him. Born into the family of a poor miller and having saved up for a long time to pay for his studies, Orlov appreciated ordinary household items and saw beauty in everything.
The work was written in 1850 during his stay in Rome. In Italy, the painter gained popularity and was in demand as a portrait painter. The picture shows the everyday domestic scene, written in dark, dull colors.
The master displayed the architectural style of the country very precisely, in a manner completely uncharacteristic of the structure of Russian buildings. The majestic houses form narrow streets, the windows are small, typical of the classic Italian style. In the background is a cathedral, resembling an ancient castle.
The main characters of the picture are still stately buildings, the figures of people in comparison with them seem to be just tiny. It is impossible to consider the character of the heroes, it is hardly possible to distinguish the female from the male.
People are engaged in unloading firewood, the man has already thrown an impressive bundle on his shoulders, and the woman sat down to rest. Perhaps it was precisely such a picture that the artist often observed from the window of his house. Winter cold makes people work in search of a source of heat.
The picture shows the small importance of a person in a big city. All life is subordinated to large structures, and people seem only pawns in the clutches of a large metropolis. This philosophical fullness is very relevant for modern society.
Houses are getting taller, and people are increasingly losing their weight in the life of the city as a whole. Sometimes no one notices the loss of a small person, while at the same time the destruction of a huge building will be a significant event in urban life.