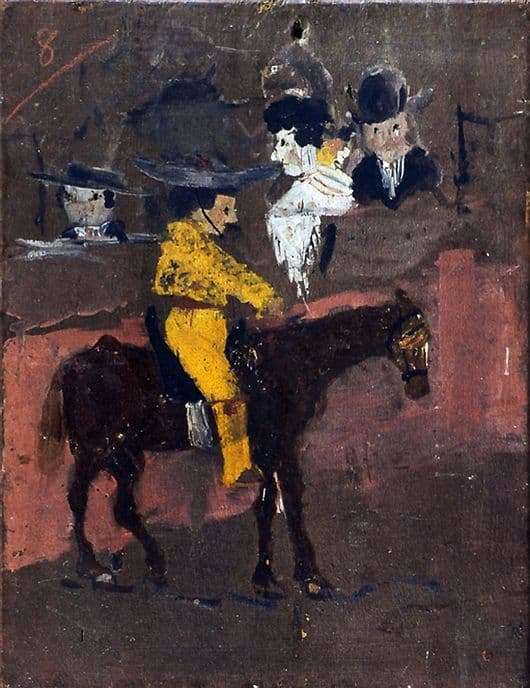 Pablo Picasso – one of the most influential artists of his time. He is one of the most influential people of the 20th century. Pablo began to show his genius at an early age. Helped and prompted him to his father, who worked at the school of fine arts and was an artist. He was an academic artist and teacher who adhered to traditional and disciplined teaching in painting.
The painting "Picador" was painted when Picasso was only eight years old. She is considered one of the first works of the artist. In it, he reflected his impressions of the bullfight to which his father was driving him. Bullfighting is a deadly battle between a bull and a man. A bull full of strength and rage is released into the arena, and the bullfighters tease him. And then comes the picador on an armored horse. People with madness scream from tension sitting in the stands. It is Picador who puts a pick into the bull and bleeds the first blood.
The picture most likely depicts the exit of Picador. He confidently sits in the saddle and is ready to fulfill his duties. From it is felt wisdom and experience. Perhaps this is not the first battle of Picador. In the battle of the bull and man, he saw a mythological symbol embodying suffering and anger. The drama of this fierce struggle has become a constant theme in his work.
Most of the picture is brown. The arena, the spectators, the stands and the horse are made in dark colors. Dark brown color is usually associated with violence. Only Picador clothing stands out for its yellow color. According to one version, the yellow color represents the risk. And individuals who wear yellow clothes are energetic, adventurous and active.
Although nothing horrific happens in the picture, there is a tension because you know what will happen next. Picasso did not part with his work until the end of his life.