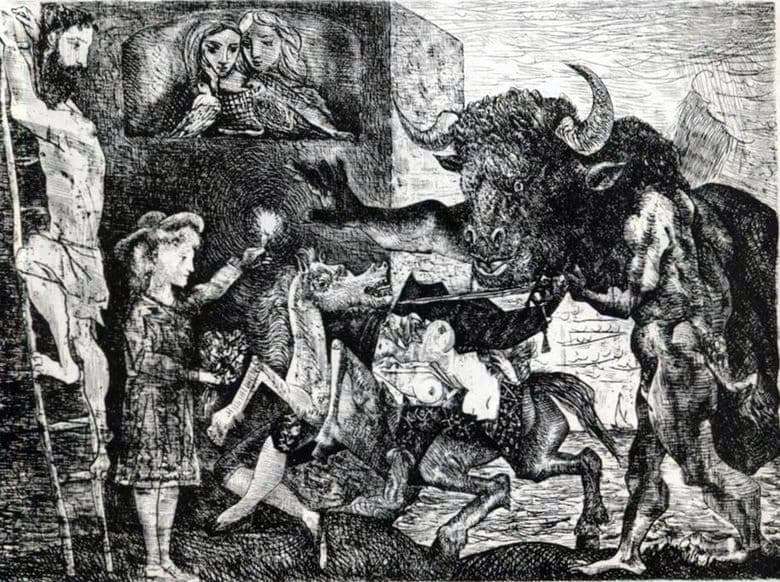 In the work of Pablo Picasso was a period when he was engaged exclusively in engraving. In the prewar period, he created a series of works devoted to an ancient mythical creature – the Minotaur. The final work was the well-known and still inexplicable engraving "Minotavromachia", written by the artist in 1935.
In the engraving "Minotavromiah", Picasso very clearly marked the culmination of the entire series of works, collecting all the previous characters in one picture, as if all the characters were at the end of the performance on one common scene.
The main character in the image of the Minotaur, is presented as a kind of being, consisting simultaneously of a bull and a man. Pablo Picasso drew a fine line, thus showing the eternal struggle between man and nature, as a result of which intellect overpowers powerful animal power. The minotaur at dusk is approaching people, its human hand is raised, and judging by how large nostrils swell, we can conclude that anger boiling inside it.
Further, our gaze falls on a man in a loincloth, who in fear tries to climb the stairs, but in front of him stands a girl with a disproportionately large head, holding flowers in one hand, and a candle in the other. She seems to be waiting for the approach of an ominous monster. On the ground lies an absolutely helpless horse, whose belly is torn and loose guts can be seen. Next to the horse, the artist depicted a woman-motodor with a sword in his hand and a completely naked chest.
From above, we see a window where two women have settled down, who calmly feed the pigeons and peacefully communicate, not noticing all the horror that is happening below, and in the distance one can see a calm sea and a ship with a sail.
All the characters and events of the engraving "Minotauromychia" complicate the perception of meaning, which is almost impossible to describe in words.