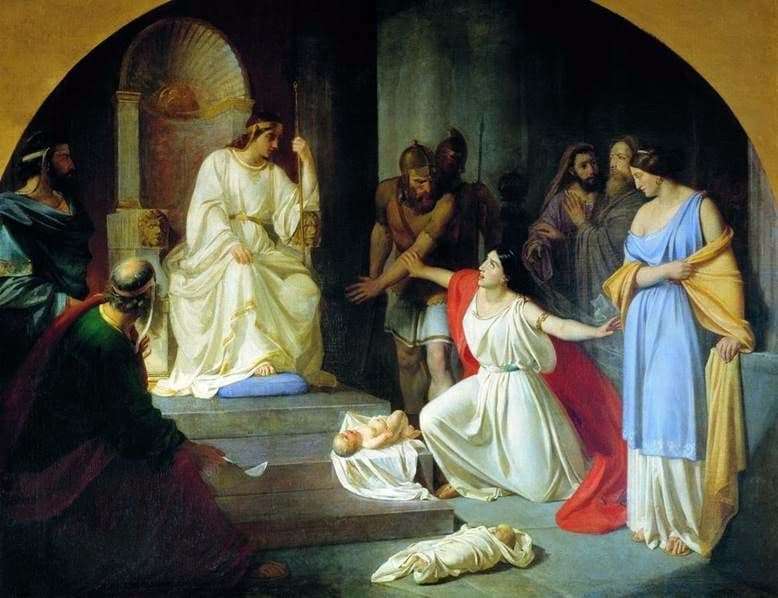 Russian painter and draftsman, he focused most of his creative way on the work of K. Bryullov. The same accuracy of the composition, close attention to detail and the brightness of contrasts, shaded by the bizarre play of light in his paintings, are complemented by a subtle sense of individuality of each image.
Portraits, historical and religious canvases admire the plastic elaboration of figures. And this is not surprising, because the master sometimes performed sculptural work. The bulk of the forms on the canvases was achieved using chiaroscuro.
The painting "The Court of King Solomon" is written in a biblical story, where the king has a difficult task – to judge two women in a dispute over who owns the child. The artist surprisingly effectively applied the color in the description of the characters arguing.
Not only is the detachment and indifference of one expressed in a calm posture. Indifference and easy surprise written on a beautiful face. The impression is enhanced by the cold tone of clothes.
The impetuous movements of the real mother of the infant are complemented by a fiery cape, crawling along the edge of the floor. With a desperate gesture she stops the warrior. Anxious face conveys horror and plea.
And Solomon, seated on a throne, towers over all the characters. Solemn white attire serves as a symbol of truth and justice. The king's eyes are on the kneeling woman. Pose expresses thoughtfulness and observation. There is no doubt that the king will make a truly wise decision.
The artist managed to catch a new, realistic direction in the transfer of biblical scenes.