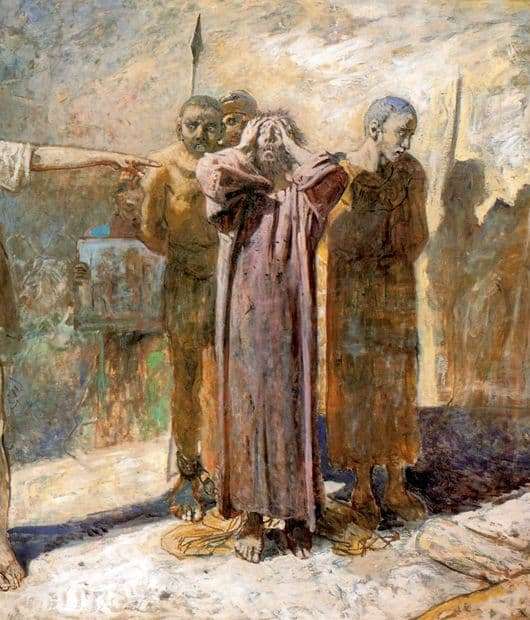 The painting "Golgotha" became one of the last works of Nikolay Ge and, according to critics, remained unfinished. The author tried to invest in his work a deep moral meaning.
In the center of the picture is Christ and the two thieves. Each character in the picture has its own character traits. So, the author conducts a dialogue with the audience, subtly hinting at what is happening and telling about the mood of each of the characters. The Son of God overcomes despair, he wring his hands. His eyes are closed, and his head involuntarily lay back.
From behind Jesus's back a criminal looks out with his hands tied. He opened his mouth, and his eyes widened in horror. To the right is a young man, in the past a robber, now a martyr who has sadly turned away. Involuntarily you notice how the author contrasts his characters. All the figures are still, as if they were waiting for the inevitable.
On the left, in the field of view, a despotic hand arises, which gives the signal to start the execution. The figure of Jesus radiates hopelessness, he anticipates a long and painful death. At his feet already put a cross. Nikolai Ge very accurately showed how Christ was betrayed and sent to a disgraceful execution. The artist with all his nature understood that the Son of God was executed unjustly. The task that the author has set for himself, to convey to the viewer that Christ, by his act, atoned for the sins of the entire human race and gave mankind a chance for salvation by sacrificing his life.
He was blamed for neglect of the form and abuse of contrasting colors. Perhaps it was the only technique that can express the feelings of the artist.
Ge wrote with characteristic broad strokes and was not afraid to use diametrically opposed colors in his canvases. He was inspired by the idea of moral character, not religious overtones. Therefore, he portrayed Christ as a symbol of self-denial, in the name of the salvation of human souls. All his life, Nikolay Geh hoped that thanks to art, humanity would come to his senses, and the world would be corrected.