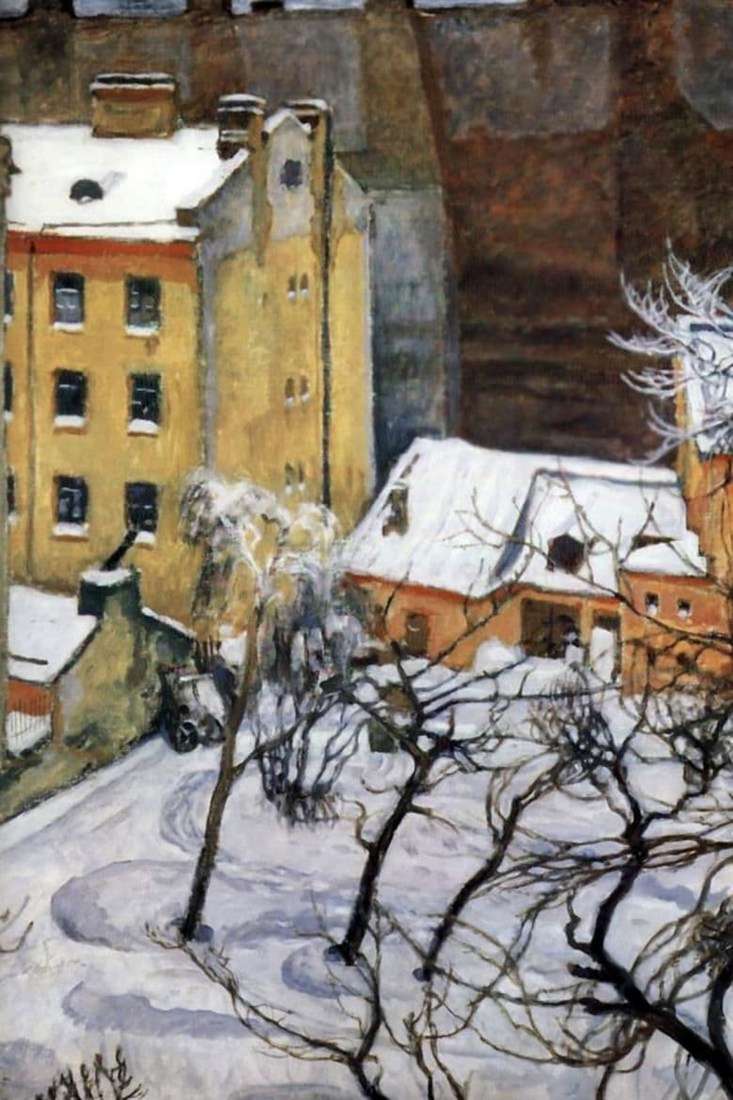 Mstislav Valeryanovich Dobuzhinsky – master of graphic landscapes. In his works can be considered many different cities. The deepest feelings, of all other cities, caused him Petersburg. With its mysterious essence, the city inspired many works. The artist, like no one else, has devoted much of his creative journey to Petersburg landscapes.
Sometimes, the northern capital of Russia caused the master to have sad, and sometimes even negative feelings. This happened when Dobuzhinsky noticed the vulgarity that was creeping in from everywhere. At these very moments the artist ceased to notice urban beauty. In each city, he saw its essence, that "wrong side", which is not noticeable in the everyday routine. In St. Petersburg, the artist noticed this inside out very often and conveyed especially vividly in his works. He was able to discern in the gloomy buildings of the city under the gloomy sky lyrical poetry, which he reflected in his work.
The picture was painted in oil in 1914. This is the only one of all works, written in oil. The image represents one of the Petersburg courtyards in the characteristic lyric for Dobuzhinsky performance. The canvas, made in the style of impressionism, gives the viewer the effect of an unexpectedly revealed look.
The artist portrays the dull everydayness of people living next door in one of the Petersburg courtyards. Deserted yard-well is divided into several cells, consisting of small and large buildings. The view from above, which opens up to the audience, enhances the expression of the picture, emphasizing the absurdity of many poor buildings with shabby faded walls, against the backdrop of a huge apartment building. The fragile branches of a small winter garden add to this effect the most acute.