Home

⇒
📌Michelangelo

⇒
Description of the painting by Michelangelo "The Creation of Eve"
Description of the painting by Michelangelo "The Creation of Eve"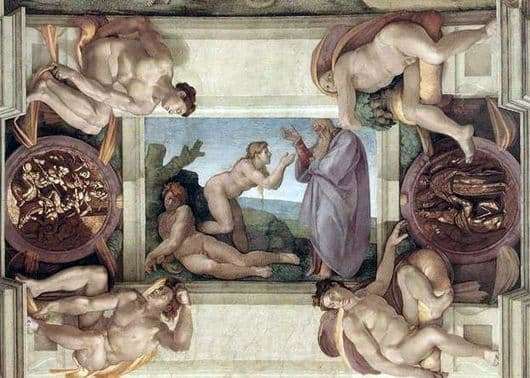 The fresco by Michelangelo "The Creation of Eve" adorns the ceiling of the Sistine Chapel. The work of the Italian master is deservedly considered one of the most significant masterpieces of Western European art. The mural depicts the famous scene from the Book of Genesis. Creation is so amazing imagination that at the time of creation even said that it was created by God, could not such a masterpiece be made by the hands of a mere mortal man.
The central character of the picture – Eve looks feminine and defenseless. She suddenly jumped up, looking at God with surprise, very modest and helpless, and her prayerful gesture tells us about her endless gratitude to the Creator and reverence for him. Her body embodies the sensuality and true Roman beauty of the time. Image Eva is considered one of the most fascinating feminine way in all the works of the great Italian painter. The creator acts as a wise old man, who with love and affection looks at his children. With a graceful movement, he takes Eve from the side of Adam.
The image on the fresco is strongly shifted to the right so that God cannot fully straighten on it. Unlike other masters, Michelangelo does not depict God, grabbing the beautiful Eve by the elbow, he does not pull her, using physical force, but on the contrary, does not even touch her. He acts only with a word and a calm imperative gesture.
Adam, tired and tired, almost dead, sleeps at the rock. His right hand is lying lifeless on a small, nondescript stump, and his left hand is completely sunk. A short trunk that shows to the right, symbolizes his direction to the first woman, the beautiful Eve. In addition to the three figures on the mural, there is nothing more alive, the rest of the landscape of the Garden of Eden looks despondent. He is waiting for the first people to apply to him their strength and vitality received by the Creator.





(
2
votes, average:
4.00
out of 5)
Description of the painting by Michelangelo "The Creation of Eve"