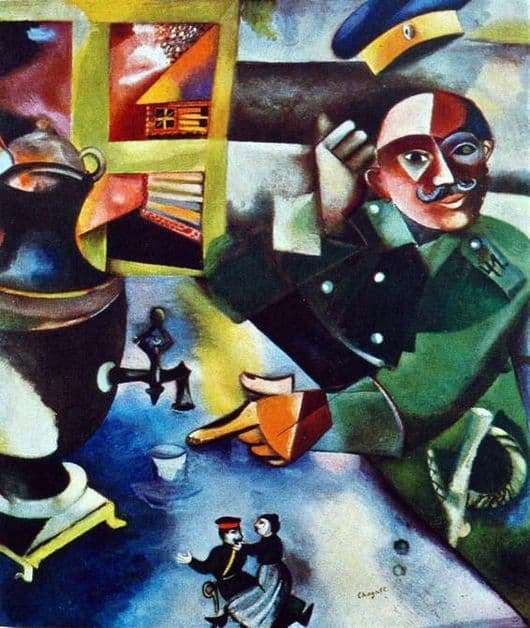 Marc Chagall is a famous graphic artist who worked in various genres and styles of painting, creating works of art.
"The Soldier Drinks" is one of the original, and to many, incomprehensible pictures of the artist, she forces one to think a lot in order to understand what the artist wanted to say. Not everyone likes to do it, we want to look at the plot and understand everything, but no, this number will not work here. The plot was written by Chagall in 1910 on canvas in oil in Paris, in the heyday of his activities. The painting is in the famous Guggenheim Museum in the United States.
The master is a great colorist, most of his paintings are presented to the viewer in a bright guise. He loved and understood color, he knew how to use it more profitably, to emphasize even the smallest detail.
In the picture "The Soldier Drinks", bright colors are used: juicy green, orange, red, blue, yellow.
It seems that there are a lot of things, at first glance you do not know what to look at. If you correlate colors with the state of the soul, then Chagall turns out that life, infinity and fear are present on this canvas.
The soldier is funny, mysterious and strange, he sits at the table, throwing his jacket. Whether he wants to drink tea, toli of vodka, come and figure it out. Chagall done, he makes people think, imagine, think about life.
The artist always said: My Russian paintings are without light, only Paris made me change my outlook and love color. In Paris, the paintings of the master played with all the colors of the rainbow, he embodied in them all his creativity, talent and ability to think outside the box. He is a symbolist and impressionist, so the emphasis is on color. He is the means of his expression, which is trying to convey to us the audience.
Try to feel the spirit of the era in which the artist created, to understand the essence of everything that happens on earth, and his paintings will not be superfluous impetus to this.