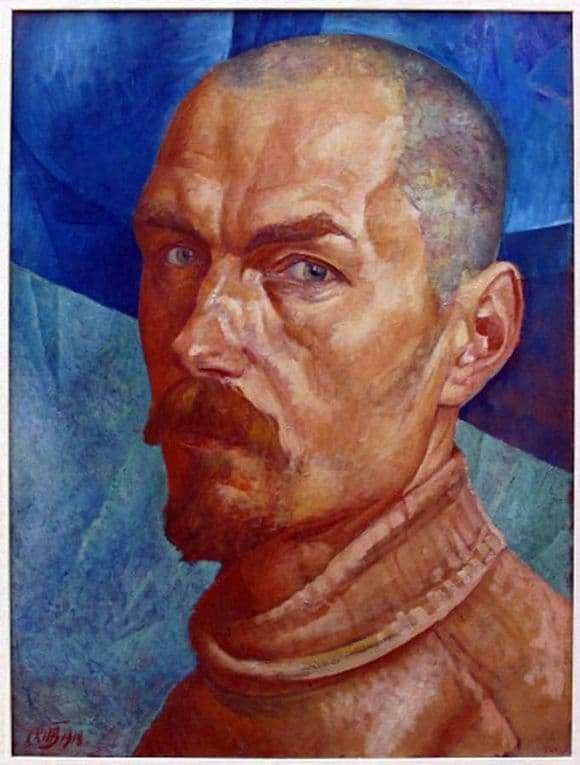 The painting was written in 1918, which is considered the year of still lifes in the works of a famous artist. A better understanding of what prompted the creation of such a picture will help the author's letters to his mother. From them it becomes known that Petrov-Vodkin is tired of life in such difficult times. He was increasingly visited by thoughts about the place of man on earth and specifically his role for humanity.
Such philosophical reflections pushed the artist to look for answers in a new and not quite familiar to him genre. According to people who personally knew the author of the picture, the portrait was surprisingly accurate. The appearance of the author is given in the smallest detail, but this is not the true value of the canvas.
The portrait hides the answer to the question about the inner strength of a person and his ability to resist the storms of life. The author argues that the source of stability for each person in the first place should be himself. One should draw strength from oneself and not seek support on the side. Only alone man has to overcome adversity, then to meet happiness.
The artist depicted on his face the deepest reflection. This is how a person should look that takes a serious decision, weighs the answer, on which his subsequent fate depends.
The image created by the master allows you to look into the author's inner world, opening up his feelings and experiences to the world. The era has put people before a difficult choice and the artist also has to make her decision. Here he is a simple person, not the creator of the beautiful, but at the same time the imprint of thoughts on his face turns the artist into a thinker.
It feels here and a sense of responsibility, which now falls on the shoulders of the artist, because in 1918 Petrov-Vodkin was elected a professor at the Academy of Arts. Now he can take art to a new level, which became possible after the Revolution, but once again made us think about which way to go.