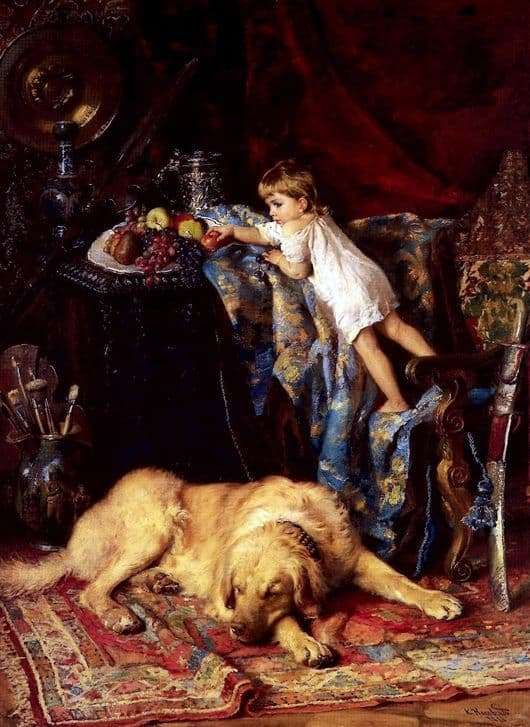 The painting "In the artist's workshop" was painted in 1881 by the painter Konstantin Makovsky. Now she is in Moscow at the Tretyakov Gallery.
The legacy of Konstantin Egorovich Makovsky is so great that the list of his achievements even has a portrait of Theodore Roosevelt, which was directly commissioned by the US government. True, in Russia, few know him, since his paintings are almost absent in galleries. The fact is that his work was not affordable even for the richest domestic collectors of that time, so they quickly "went away" abroad. In this regard, Makovsky was declared a "harmful" artist. "In the artist's studio" – this is one of the few paintings by the creator, which is located in the Tretyakov Gallery.
The picture depicts the little son of the artist, who is going to get a sweet apple. That is why the second name of the canvas – "Little Thief".
The picture is imbued with childlike naivety and bright feelings. The little boy cannot yet enjoy this Flemish-style still life, so he, in a white nightie slipping from his shoulder, is trying to slightly break the idyll.
Oddly enough, initially, the artist planned to paint a still life. This is evident in the fabric on which the child became: it was prepared by Makovsky specifically for creating the background.
As for the original name of the picture, it is completely true, because the storyline developed in the workshop of Konstantin Egorovich. The velvet, glare, antique weapons and vases add color to the gloss of the interior.