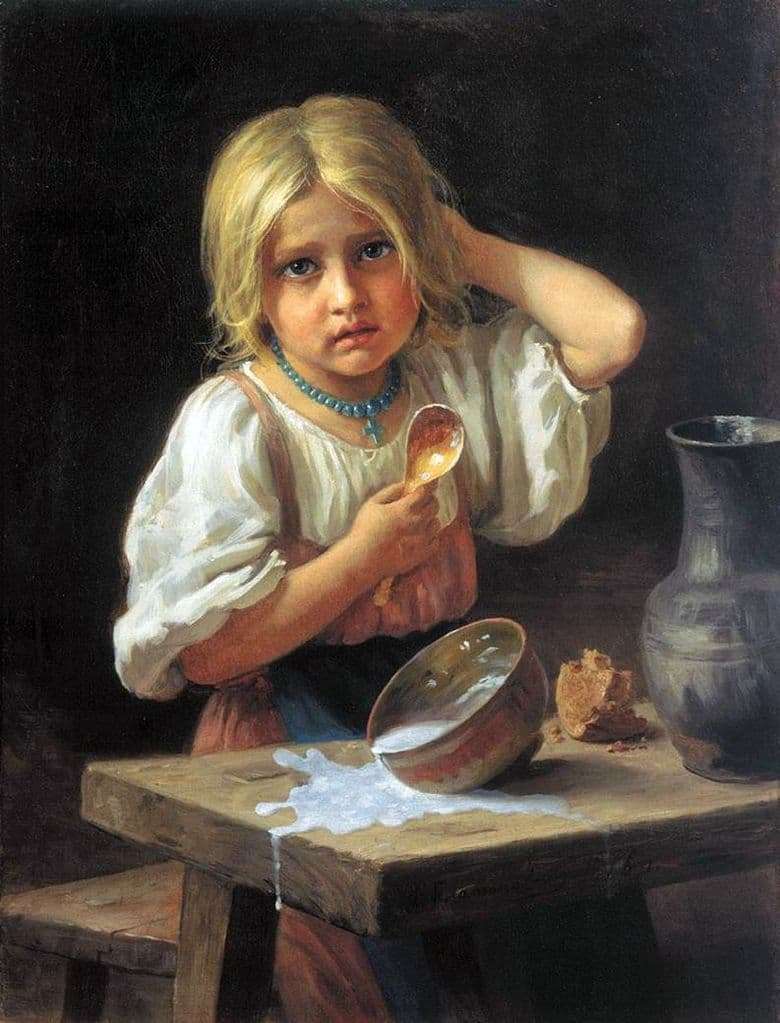 The picture depicted by Platonov Khariton Platonovich. Year of creation 1876, oil on canvas. The size of the painting is 48.5×64.5 cm, stored in the Tomsk Regional Art Museum. Platonov came from an ordinary peasant family, not unimportant in his work was a description of the life of working peasants, as well as children. The heroines of his work are peasant children, most often girls, whose images were well known to him from childhood. Looking at the work of the author, as if immersed in the atmosphere of the past era.
The simplicity of the picture and at the same time incredibility give it a charm. The work is written with light brush movements, smooth and precise covering of the canvas, nothing superfluous. The author has withstood the rigor in colors and colors. In the center of the image, the author placed a little girl who accidentally spilled milk, she is his main character.
A small, blond creature with an angelic face, everything about her is beautiful. A deep, lively, penetrating gaze that fascinates the viewer. A description of the everyday life of a little girl, simple low-key clothing, milk and bread – something that the peasant children had to settle for. Spilled white milk as a symbol of children's spontaneity and purity. The white dress personifies childlike kindness and purity. As the son of a peasant, he spent his entire childhood surrounded by peasant children,
Stunning paintings of the artist, fascinating painting, the image of children's portraits made Platonov one of the most famous artists of the time.