Description of the painting by Kazimir Malevich "Boy with a backpack"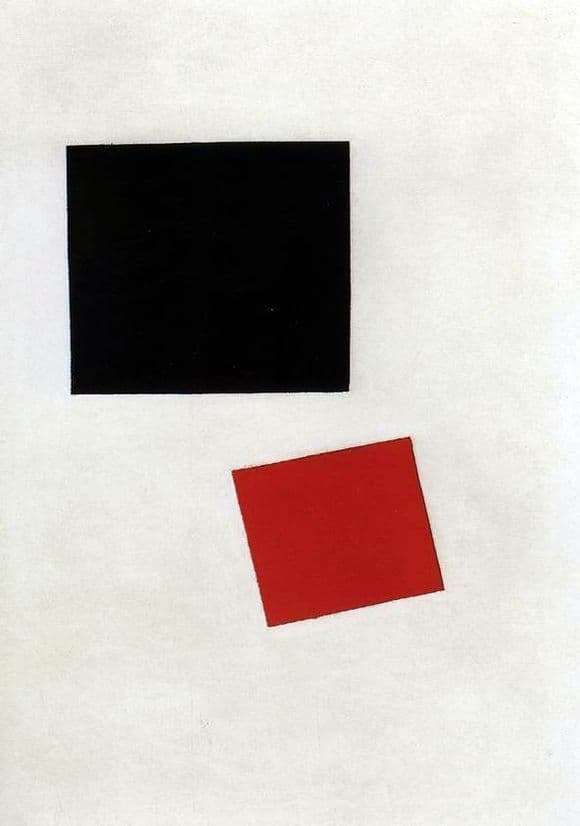 Paraphrasing Kazimir Malevich, dynamic Suprematism (one of the directions of the artist) is able to transform the entire planet, because there are no natures here, only sets of figures symbolizing free flight, rapid dynamics. And indeed, in the picture we see black and red squares, nothing more.
No backpack, and even more so the boy is not here. By the way, like Malevich and other Suprematists, it happens and vice versa: the name is completely abstract, and the image is quite understandable, with clearly tracing figures and even images.
Whether the freedom of this and other Suprematist paintings is absolute remains a controversial issue. The flight, of which Casimir speaks, is still limited to something, whether it be paper or some kind of limiters in the drawing itself. Already not complete freedom. Not to mention the fact that compositional works are extremely aesthetic, here even close to classical painting. "Three" red-white-black – is it not a classic?!
The highlight of this trend is professional, simply masterful display of Russian souls and minds. Malevich, on the other hand, surpasses this and reflects in his creative work the souls and minds of not only Russia, but the whole world!
The composition is strict, but if you mentally draw a line from a black square to a red one, then you can see a pendulum clock. In my opinion, more like a boy with a knapsack, is not it? But there are even those who, having come to the Casimir exhibition in black clothes with a red backpack and first saw this picture alive, call the artist a prophet who predicted the appearance of this person at the exhibition. Bullshit or not, judge you!
We, perhaps, through long tests and research, have yet to figure out what is in the black head of this Maltz, dragging a red backpack on the way home…





(
1
votes, average:
5.00
out of 5)
Description of the painting by Kazimir Malevich "Boy with a backpack"