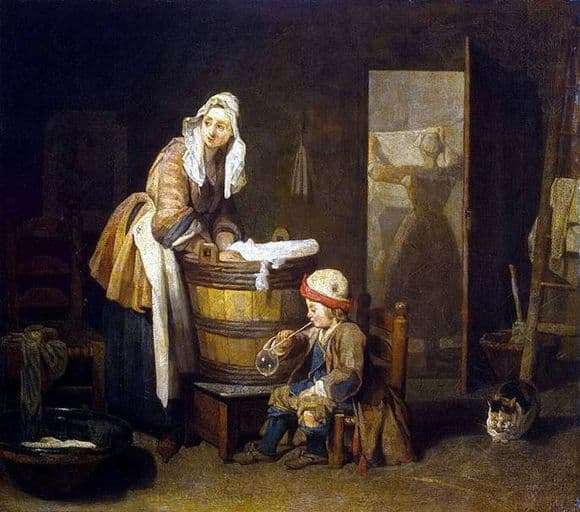 The painting depicts a typical day in the life of ordinary people. The foreground is distinguished by bright, almost radiant colors, and it depicts a woman, a child, a trough with soapy water, a three-colored cat, dormant, with its paws tucked under itself.
The picture turns out to be almost idealistic – the mother works, and this work is so customary for her, that you don't need to look at your own hands, they already know what to do. She is simply dressed, her cap hides her hair, her face is simple and thoughtful.
Turning to the light, that is, to the window invisible to the viewer, the girl looks at how people pass by, how clouds float across the sky. Maybe something interesting is happening there – someone was shot down by a crew or a scandal at the neighbors – and maybe it is just interesting to distract from the tedious work. Come up with a story about a man in a funny hat. Or fleeting envy lady in bright scarlet shoes.
Next to her, on a chair, sits a boy. He is dressed neatly, but clearly sewn by an incompetent seamstress. Blue and brown in his costume are bizarrely combined, stocking slipped, stands out bright red ribbon on the cap. The boy is completely absorbed in his occupation – he blows out of the suds, which is whipped in the process of washing, a huge rainbow bubble. For him there is no occupation more interesting, he is completely absorbed by him.
The tricolor cat is sleeping a little apart. She must be fed and she is not interested in people's problems. She just sleeps, looking delightfully fluffy, and, perhaps, sees in a dream the most huge and tasty cutlet in her life.
The background is much darker than the front, because of this, it creates the feeling of a backdrop for a scene that is slightly dark and covered with flies. There is a door, a basin, some kind of rags, and a woman hanging clothes, whose faces cannot be seen.
Scene seems ordinary and in life might seem even boring. But in the picture, passing through the perception of the artist, it becomes much more interesting and beautiful.