Home

⇒
📌Shishkin Ivan

⇒
Description of the painting by Ivan Shishkin "View of the surroundings of Dusseldorf
Description of the painting by Ivan Shishkin "View of the surroundings of Dusseldorf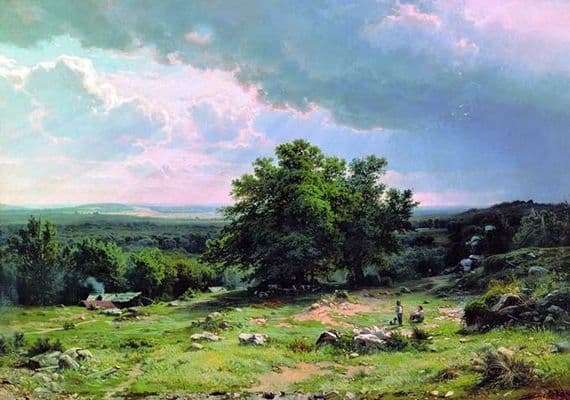 The famous painting "A View in the Suburbs of Dusseldorf" brought the Russian landscape painter I. Shishkin the title of academician in 1865.
At this time, the artist was in Germany for an internship. Together with other students of the local Academy of Arts, he wrote a lot in the Teutoburg Forest, which is located near Düsseldorf. Shishkin madly liked the local landscapes that resembled the beauty of nature in Russia.
Everything he saw with great pleasure transferred to the canvas. Works by I. Shishkin made by pen were highly appreciated by admirers of art, and the artist himself wrote that he "became famous here," that he was "shown everywhere", and often asked if he was Shishkin, what he "painted so beautifully.
The most famous painting by the master of the brush "The View of the Suburbs of Düsseldorf" was painted right near Düsseldorf, it was ordered
by the eminent collector from St. Petersburg N. D. Bykov.
Before creating a masterpiece, Shishkin wrote many sketches of a similar subject, some of the sketches even became a separate work.
Starting the work on the order, the artist could not immediately determine the plot. Shishkin's first idea – the image on the canvas of the landscape after the last thunderstorm. However, after some time, the artist changed his plans and decided to depict the landscape in anticipation of a thunderstorm, and not after it. In general, the picture is very airy, filled with light.
Anyone who contemplates this picture, nature seems alive, you can feel its warmth and sincerity. The artist very skillfully draws every element of the canvas. On the right, in the upper corner of the canvas, the painter placed a dark cloud, obscuring the sun.
It is this detail that indicates the approach of a thunderstorm. Here the master brush delicately displays changes in nature with the help of contrast and saturation of tones. Shishkin's thunderstorm symbolizes the joy of life, because people don't think to run away from the weather, but feel themselves to be a part of nature.





(
1
votes, average:
5.00
out of 5)
Description of the painting by Ivan Shishkin "View of the surroundings of Dusseldorf