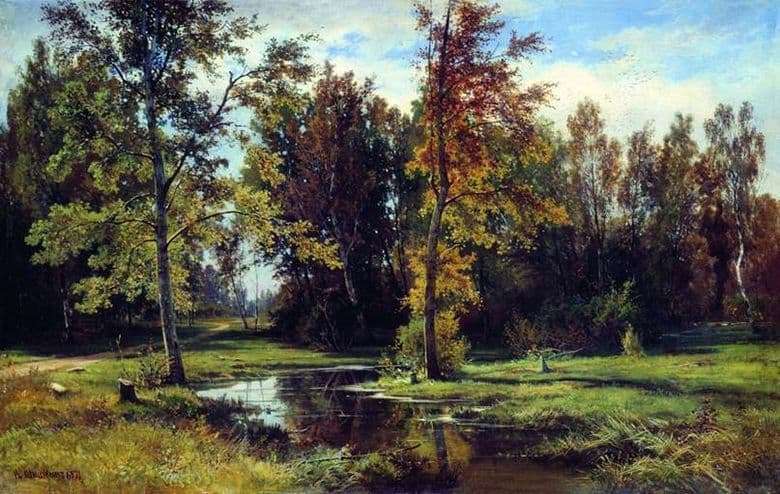 The great artist Ivan Ivanovich Shishkin wrote the work "Birch Forest" in 1871. The image is made in the style of realism, in the landscape genre. Canvas and oil, canvas size 70×110, collection of Donetsk Regional Art Museum. First of all, the artist impresses with his talent and painting technique. Seeing the pictures, it is impossible to forget them. Talent for painting, perseverance and hard work helped him to become a great artist for all time. A large number of the author's works are devoted to painting and nature.
The author skillfully uses the game colors, depicting nature. Blue sky, slightly covered by clouds, sunlight penetrating the picture. The sun's rays sparkle on the surface of the water. Beautiful birch trees, which opened wide their branches. Greenish, sprawling tree crowns. The forest as if attracts with its coolness, looking at the image, there is a desire to sit on fresh, greenish grass, listen to the rustling of leaves and the silence of the forest. The rich green grass beckons a look. The light and air movements of the artist's brush create a masterpiece on the canvas. He trowels can convey saturation and play of light. Looking at the picture, it seems as if you are in the center of the nature that the artist created. Vastness and boundless majesty of the forest. A small stream, which seems to depict a smooth flow of life, a light breeze sways the trees.
The picture draws the viewer's attention by the elegance and grace of nature. A true connoisseur of painting and a simple man in the street picture will be remembered as a masterpiece of Russian painting.