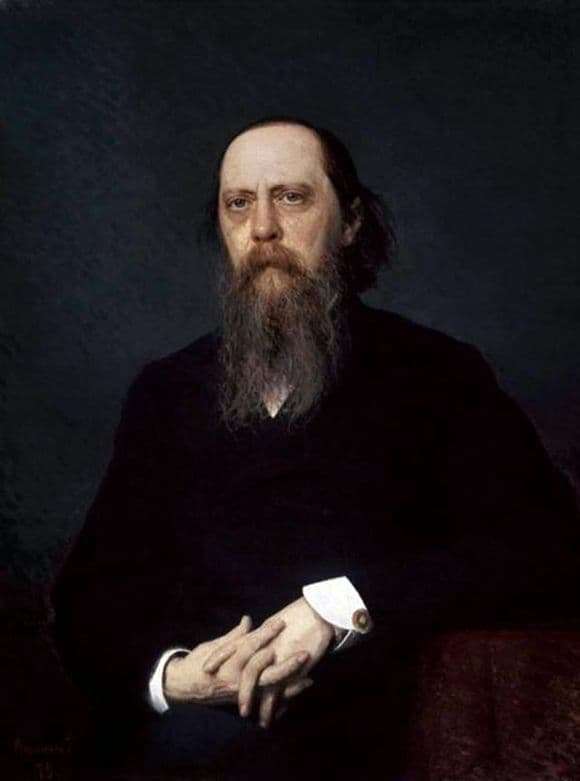 For the Tretyakov Gallery, Ivan Kramskoy commissioned a series of works in the portrait genre. It was necessary to depict on canvases figures of Russian culture. It is no coincidence that M. Saltykov-Shchedrin, a man of great intelligence, a writer of multi-genre literature, in particular satirical accusatory works about events in Russian society, made this list.
At first glance, Shchedrin's portrait is struck by the clear contrast of the face and hands with a jacket, background and table on which the writer is leaning. Intentionally, Kramskoy illuminates the facial expression with light colors with detailed mimic movements and interlacing hands, restless, strained. The indifferent soul of the thinker is read in these terms, his concern for the fate of the people and personal responsibility for it.
Work on the painting was begun in the winter of 1877. Soon the creation of the brush was ready for presentation to the public. But Tretyakov expressed a wish that the portrait would cover not only the head of Saltykov-Shchedrin, but also the brush, because they were not in the initial version. The portrait painter skillfully fulfilled the wish, and in 1879 the canvas entered the gallery.
The figure of the writer is depicted in apparent complete tranquility, only in the look and detail of the traced details of the turbulent flow of a moving soul. The purpose of the artist was to show the image of a deep-minded person. And along with other paintings in the portrait of Saltykov-Shchedrin, the task was perfectly accomplished.
People familiar with the work of the writer, immediately recognize him on the canvas by the seeking glance, indignation in slightly shifted eyebrows and by the enormous spiritual strength. In the guise of a cultural figure, we see an understanding of life and an unshakable will. The great Russian publicist appears to the audience as a man who has devoted himself entirely to his time and personal service for the benefit of society.