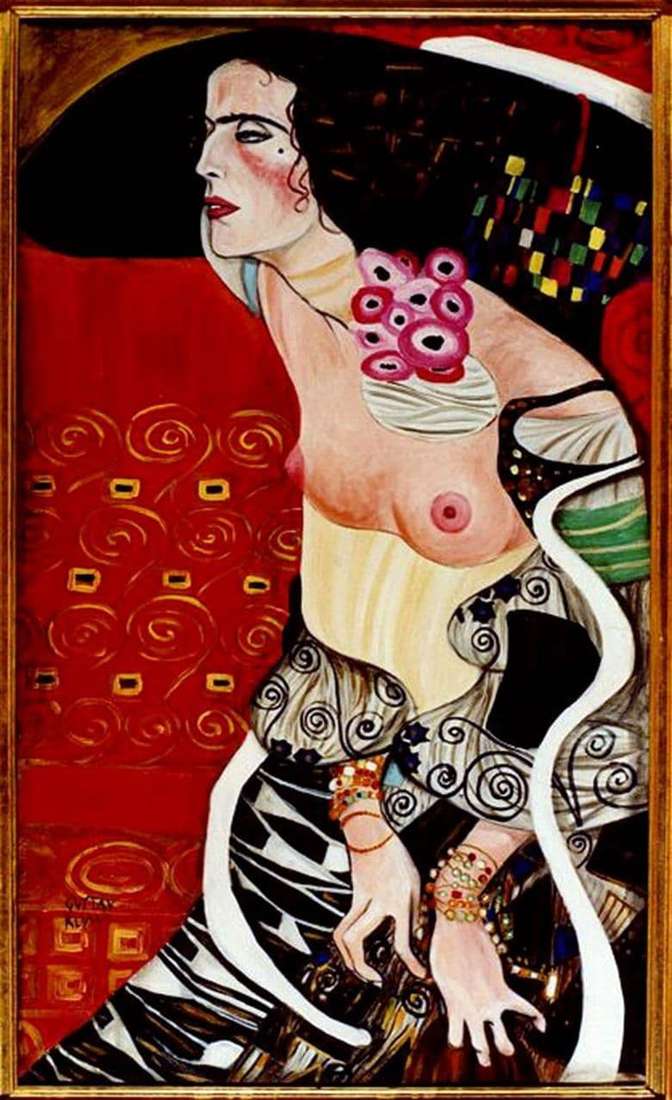 The artist, who created the canvas with the image of Judith, 8 years later embodied another archetype of a fatal beauty not in the image of a biblical character, but in the guise of his contemporaries – the inhabitant of the Austrian capital, as indicated by her fashionable outfit and jewelry. This ambitious and independent woman, at the same time mysterious, charming and fatal, puts herself on a level higher than the men who admire her.
Klimt originally interprets the Old Testament story about Judith's righteous widow, who dared to ascetic act to save his native city from the Assyrians. That is why the painting acquired a different name – "Salome", obtained in honor of the notorious New Testament temptress.
The picturesque concept of the painting is adjacent to the arts and crafts. Sensations from reality served only as an impetus for the creation of the canvas, having nothing in common with its essence. Images and realities have undergone stylization in the spirit of modernism. As a background, the painter, as usual, used a planar ornament with a small pattern. The antithesis to such a background was ephemeral, spatially interpreted elements of the image – the face, shoulders, and chest of the model, distinguished by a peculiar pinkish color, underlined by volume-giving shadows, and a feverish blush on the cheeks. Eyes under gracefully bred, almost accrete on the nose, half-closed eyebrows, the brick color of lipstick aggravates the impression of a fatal woman.
The artist emphasized the unusual appearance of the heroine through many details. A wide-brimmed black hat attracts the viewer's attention, from under which dark brown hair gracefully styled in an exquisite hairstyle is visible. On the neck of the heroine is an expensive necklace decorated with poppies. Hands with an abundance of bracelets frantically clenched on the thigh.
The artist limited the outline of the heroine's figure to a generational image, with the lower part hidden by a long robe with a bright black and white geometric pattern. The figure itself is made in a half-turn position, its silhouette is elongated, this gives expressiveness to a dramatic pose, which is characterized by tension, heightened patheticism, nervousness, sensuality, and aggressiveness. This was the personal perception of life by the master.