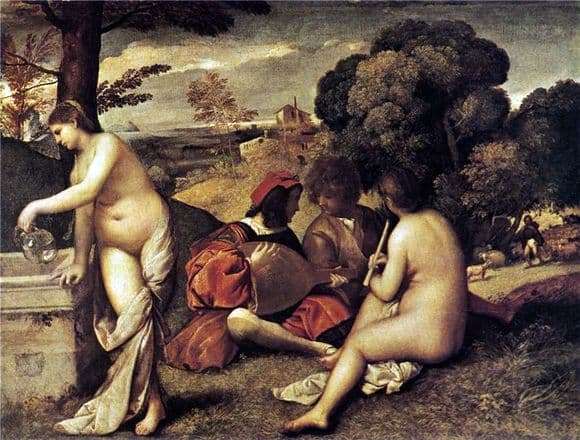 The representative of the so-called Venetian school of painting Giorgione knew a lot about the image of a poetic pastoral landscape. In the painting "Rural concert" (another name – "Concert in the open air"), such a landscape serves as a background.
Majestic trees with soft crown shapes, calm summer sky with clouds slowly passing over it, a small house in the background and a shepherd grazing goats. All this serene pastoral is in harmony with the smooth lines of the young men's robes and the curvaceous forms of their girlfriends. The colors of clothes are muffled, the movements are slow. The young men are completely immersed in music and do not indulge in the contemplation of the sensual beauty of two women, whose movements are restrained and calm.
At the same time, the nature in the picture seems to be subordinated to art in the face of the young men with musical instruments. Here, it seems, the pipe in the hands of one of the women has just become silent, the strings on the lute in the hands of the young man are still trembling, the shepherd's bagpipes sound from afar. Quietly murmurs a trickle of water in the fountain on which the second woman leaned. The general poetic atmosphere softens the somewhat ambiguous perception of the composition with two naked women, who are either allegorical figures, or courtesans, who have left for nature.
Initially, the picture was characterized by a balance of warm and cold colors, but the varnish that covered it darkened with time, giving the product a golden color. But this did not in any way change the poetic nature of the composition, where sensuality and joy of being are balanced by a harmonious, even enlightened attitude to life.
The peculiar charm of creativity of Giorgione, whose student was the famous painter Titian, is fully revealed in this picture.