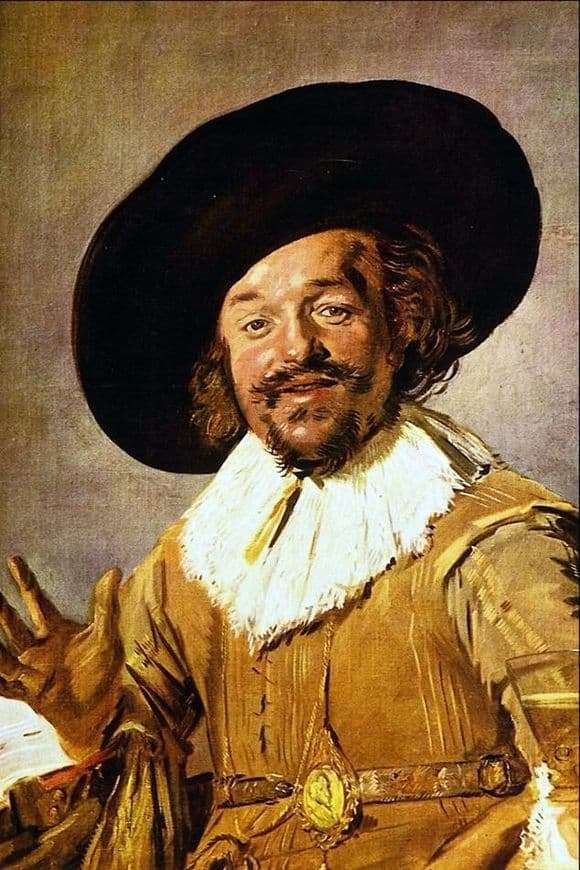 Khals used to spend all his free time in pubs and taverns. But it would be wrong to say that he visited the pubs only to get drunk. It was here that he saw those people who then became the heroes of his famous paintings.
This canvas is addressed directly to each of us, to ordinary viewers. A cheerful drinking companion holds a raised glass in his hand, and as if he is going to drink to the health of all of us.
One feels a certain warmth of the hero. He's already a little drunk. He is ready to continue his holiday with everyone. At the same time it is absolutely unimportant to him with whom. It is possible that those who are on the other side of the frame will become his drinking buddies.
Hals – comes from the poor sections of the then society of Holland. He managed to bring to art an incredibly healthy stream of the common people.
The heroes of his magnificent paintings are ordinary people. At the same time, the characters do not seem at all oppressed and crammed. We do not feel their humiliation. They are incredibly cheerful and ready to constantly enjoy every moment of life.
Patricians, whom Hals portrayed to order, miraculously lose their pomp on his portraits. They begin to behave naturally and as relaxed as possible. At the same time, they lose the difference and become such simple people. At the same time, it does not feel at all that they are framed by money and refined manners of high society.
Hals sought to emphasize in every person he portrayed, the human element. At the same time, the features of the estate character went far into the background. It is important that rich customers do not always appreciate such an unusual approach.
But there were those who still decided to become a hero of the most expressive portraits of Hals. They are rewarded. Three centuries have passed. Now we can see their living faces.