Home

⇒
📌Lancere Eugene

⇒
Description of the painting by Evgeny Lansere "Empress Elizaveta Petrovna in Tsarskoye Selo"
Description of the painting by Evgeny Lansere "Empress Elizaveta Petrovna in Tsarskoye Selo"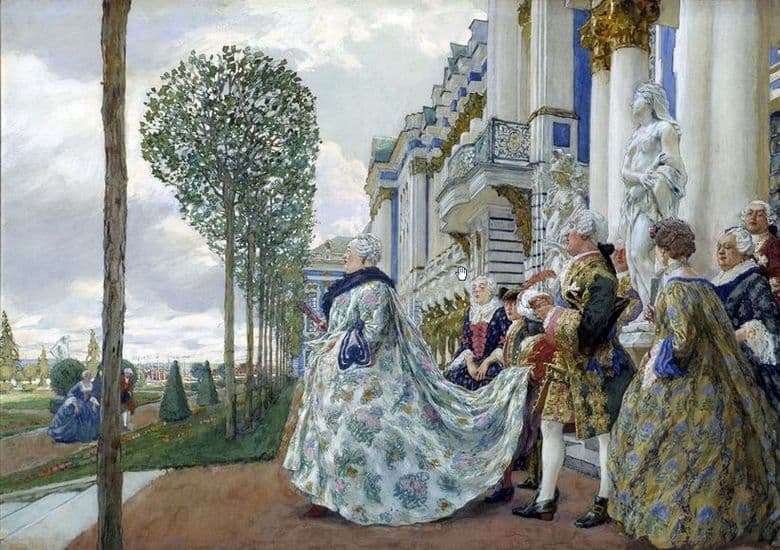 Eugeny Lancere, the author of monumental murals, visited the Tsarskoye Selo park from a young age, examining the architecture of the Catherine Palace and studying it. In his picture "Empress Elizaveta Petrovna in Tsarskoye Selo" he managed to convey the era of Elizabeth Petrovna. The size of the canvas (paper on cardboard) 43.5 x62 cm.
The picture shows the atmosphere of how solemnly the courtyard and the retinue of Elizaveta Petrovna come out of the country residence. We seem to see a kind of theatrical performance in front of the audience. The obese empress Elizaveta Petrovna majestically and regally sails past the spectators. The empress's long train tries to solemnly carry the arapchon, who was lost among the luxuriously dressed courtiers. Her retinue follows her – ladies and gentlemen, who are also dressed up in lush outfits, they are wearing powdered wigs.
Looking at the picture, we can try to reveal all the characters and types of people depicted in it, reading their poses, gestures and faces. Lancere depicted not only the haughty faces of the prim of the courtiers, we also notice the degraded, timid views. The author tried to show some grotesque, as well as his own irony to what is happening. Lancere is trying to oppose the people he depicts in the picture and architecture – the nobility of the severity of the white marble statues of their true greatness, which could be embodied in the remarkable architecture of the Rastrelli Palace. The artist was well able to convey the beauty of the park Tsarskoye Selo.
In the picture there is no illusory space. The canvas is written in gouache, but there are several feather-colored monochrome watercolor screensavers.





(
2
votes, average:
4.50
out of 5)
Description of the painting by Evgeny Lansere "Empress Elizaveta Petrovna in Tsarskoye Selo"