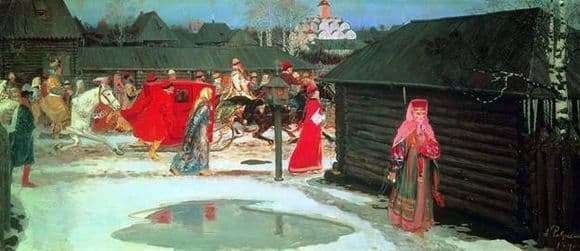 The famous Russian painter Andrei Petrovich Ryabushkin is famous for his exceptional craftsmanship, with whom he painted historical and genre paintings and recreated the life of 17th-century Moscow houses.
One of the most popular paintings of the artist is the Wedding Train in Moscow, now located in the collection of the State Tretyakov Gallery, and bursting with life and special charm.
The work was written in 1901 and is one of many dedicated to the master of the image of the people, costume and architecture of the 17th century. One look at the picture is enough to feel the atmosphere of that time and briefly go back into the world of other cultural traditions.
Ryabushkin portrays an ordinary village street, along which a procession of horses, people and carts is rapidly sweeping through – an ancient ceremony that was held in Russia in honor of the wedding. The entire composition of the picture is subject to the same rhythm – fast movement, many moving figures and objects.
On the right most of the canvas is occupied by a dark spot, a wooden house, near which stands a lonely and sad girl. The coloring of the picture is very typical of Ryabushkin's painting. Bright red color dominates the coloring of the wagon and traditional folk costumes in which the characters are dressed.
"The Wedding Train in Moscow" is written on a very wide canvas, even more panoramic, in format. This feature was not typical for the painting of that time, but Ryabushkin very successfully beat an atypical format. This allowed the artist not only to emphasize the elongated composition of the "wedding train", but also to increase the effect of presence – the viewer really seems that he is a witness to the events.
The atmosphere of the 17th century, bright and festive, but with a hint of sadness against the background of general joy – this work can really be considered significant in all the artist's work.