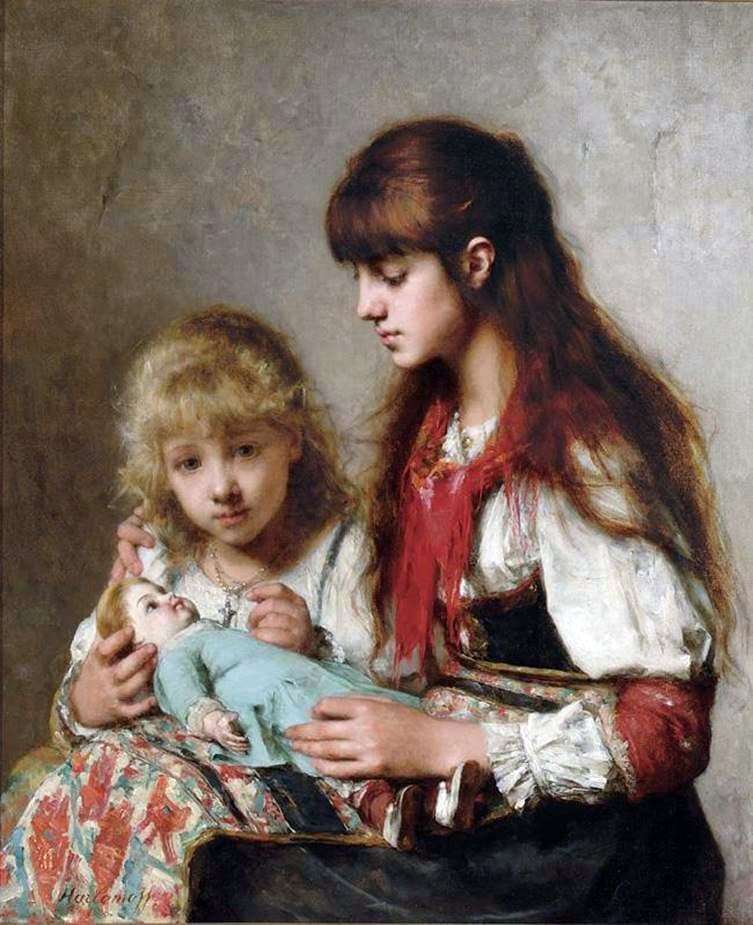 Portraits and simple, everyday scenes from the life of children were the favorite theme of the brush by Alexei Kharlamov. No exception – the painting "Sisters". The author managed to capture the elegance of the gestures and appearance of young girls thanks to the technique perfected to perfection and the impeccable delicate color of the canvas.
The portrait depicts two sisters holding a doll. The beautiful regular features of almost angelic faces continue to delight critics and art lovers to this day. The younger sister with charming blonde hair looks directly at the viewer. The soft light of her curious and trusting eyes touches and leaves the feeling of warmth in the soul. On the neck of the girl, a pectoral cross worn by the caring hands of a mother or grandmother is a frequent attribute of a simple and respectable Christian family.
Older sister lowered her gaze. She easily hugs the younger child's shoulder – a cute, unobtrusive gesture of nursing care. Her long brown hair falls freely on a white shirt in folk style. A beautiful contrast creates a scarlet scarf with a Russian pattern and an elbow piece. Her favorite doll is dressed in a tender turquoise dress, which the girls themselves may have sewed.
The palette of work is quite restrained and harmonious, does not distract from the images of their heroines. These are mainly brown, gray and beige tones, which gradually merge into each other. The composition of the painting is simple, the artist does not want to pile on unnecessary objects and details, because the center of attention is the sincere, immediate beauty of youth.
Realism is a popular style during the days of Kharlamov. Indeed, the picture looks like a photograph, the canvas turned out to be so reliable and correct in terms of proportions and light and shade. The subtle vision and ability to notice the touching good-naturedness and cleanliness of children made the author a popular portrait painter of young persons.