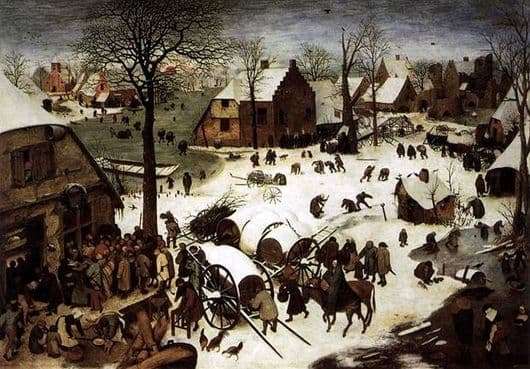 The famous canvas, based on the biblical story, was created by Peter Bruegel in 1566. The main theme of the plot reflects the life and life of the people in a social aspect.
All the work of the artist of this time interval characterizes the authenticity of what is happening, and the gospel plot masks this action. After all, evangelicals are convinced that Bethlehem is the true place of the birth of Jesus. According to the Old Testament prophets, this city is the territory where the Messiah was born. However, according to Luke, Joseph and Mary lived in Nazareth. Luke refers to the census, which was carried out by decree of the emperor Augustus, from which it followed that Mary, therefore, gave birth in Bethlehem.
In those days, rules were established that regulated the registration of Jews in Bethlehem. From this it followed that each person had to go to the city of his birth, where he was born. Joseph's birthplace was the city of David, where he went, despite the danger of this journey. But the road was every day, since Mary soon should have given birth to a child.
Through this picture, the artist conveyed the essence of the arbitrariness created in the Dutch villages because of the work of local authorities. Here he represents the life of the village, but only one detail characterizes this canvas, relating to the Gospel plot – this is a donkey, which carries Mary, as well as an ox. After all, these animals should be present at the Nativity of Christ.
If there were not these elements, the standard genre scene would be waiting for the viewer.
Unlike Mary, Joseph is a minor figure and is depicted by the artist from the back, and because of the hat we cannot see his faces.
In general, Bruegel asserts the fact of the presence of Jesus here and now, showing that he is among us and we do not see him while he is outside of us.